Pages: 384
Title: Book Lovers
Author: Emily Henry
Published: May 03, 2022
Genre: Contemporary Romance
Warning: you won't be able to put it down
Publisher: Penguin Random House (Berkley)
Rating: 5/5 ★★★★★
"One summer. Two rivals. A plot twist they didn't see coming…
Nora Stephens' life is books—she's read them all—and she is not that type of heroine. Not the plucky one, not the laidback dream girl, and especially not the sweetheart. In fact, the only people Nora is a heroine for are her clients, for whom she lands enormous deals as a cutthroat literary agent, and her beloved little sister Libby.
Which is why she agrees to go to Sunshine Falls, North Carolina for the month of August when Libby begs her for a sisters' trip away—with visions of a small town transformation for Nora, who she's convinced needs to become the heroine in her own story. But instead of picnics in meadows, or run-ins with a handsome country doctor or bulging-forearmed bartender, Nora keeps bumping into Charlie Lastra, a bookish brooding editor from back in the city. It would be a meet-cute if not for the fact that they've met many times and it's never been cute.
If Nora knows she's not an ideal heroine, Charlie knows he's nobody's hero, but as they are thrown together again and again—in a series of coincidences no editor worth their salt would allow—what they discover might just unravel the carefully crafted stories they've written about themselves." 
Book Lovers is a 2022 romance novel written by Emily Henry. It was immediately a #1 New York Times bestseller and stayed on the list for 21 weeks. I can't stop thinking about the story and the absurd amount of money I'll be spending on all of Emily Henry's other novels. Her other popular novels are Beach Read, The People We Meet on Vacation, and Happy Place, which is currently listed on the New York Times bestsellers list as well. 
This book will make the worst pessimist believe in happy endings again. I wish I hadn't read it so I could experience reading it for the first time again. This is probably the best book I've read this year. I had been in a romance novel rut, as I hadn't found anything that piqued my interest in quite some time. This book reminded me why I loved the genre so much. 
This book made me feel every kind of emotion. I went through chapters crying tears of joy, and others heartbroken. The best part was the humor throughout the book. I laughed the entire way through due to Emily Henry's knack for incorporating humor and sarcasm into conversation. 
Nora was my favorite character. Of course, the book is written from her perspective, so it isn't surprising to identify with her the most. One of my favorite things about Nora is the fact that, like myself, she always reads the ending of a book first. I related to her in so many ways, which only made me love this book even more. I also agreed with many of the motivations behind her career decisions, as hers are very similar to my own aspirations. 
The only character I felt frustrated with was Nora's sister Libby. She made some off-handed criticisms and comments about Nora. Libby does become more self-aware by the end, but only after Nora addressed her rude remarks directly. Although these instances were annoying, it is such a small portion of the story that it hardly takes away from the reader's experience.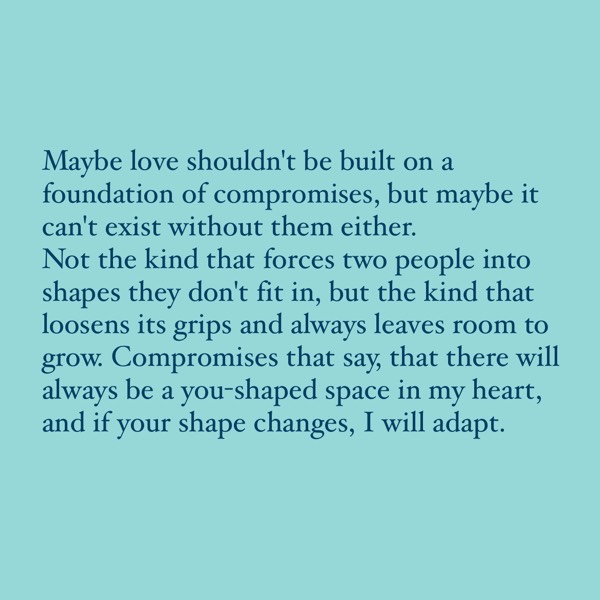 (Emily Henry 362).
 There are many amazing quotes in this book. It touches a lot on themes, such as career versus family life, as well as love versus familial obligations. I believe many young and older adults will resonate with the themes. "Love isn't enough to change the details of a person's life—or their needs. It doesn't make everything fall into place. I don't want to give up everything" (Henry 313-314). 
The reader is given great insight into the supporting characters, too. Through Charlie and Nora's stories, we learn a lot about their upbringing and family situation. These were a great addition to the story because the reader is given the opportunity to sympathize with their experiences even if the details aren't exact matches to the reader's. One universal experience I believe any reader could identify with is the feeling of loneliness and the pain of not fitting in. "All this place had ever been was a reminder of the ways I was a disappointment" (Henry 232). This story is about fitting in, finding love, and, in turn, discovering where you truly belong. I am giving this book five stars. Any one who loves the contemporary romance genre should give Book Lovers a chance.
Purchase this book at 
---
Share This Post On
0 comments
---
Leave a comment

You need to login to leave a comment. Log-in
---