While many dishes are standard for Indian cuisine with only slight variations between states, these dishes originated in Tamil Nadu. They are traditionally associated with the state, although many eventually became popular throughout the rest of India or worldwide. If you're interested in learning more about Tamil Nadu cuisine, check out my other article, "Flavors of South India: Tamil Nadu."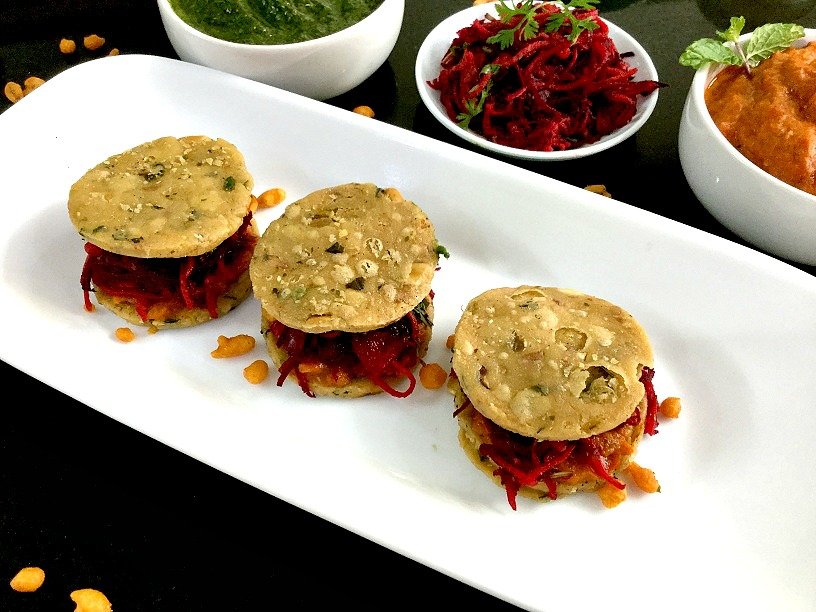 Salem Thattu Vadai
Salem thattu vadai is a popular street food that originated in Salem District of Tamil Nadu. It's paired with red chutney and green chutney. The green chutney is made with coconut, mint and coriander leaves, green chilies, and ginger. The red chutney calls for red chilies, tomato, garlic, onion, and tamarind.The chutneys are made by grinding the ingredients into a thick paste. Thattu vadai are fried rice crackers. They can be bought at the store or homemade using chana dal, urad dal, rice flour, and a mix of herbs and spices. The sandwich is made using coriander leaves, carrot, beetroot, and onion. Red chutney is spread onto one thattu vadai cracker and green chutney is spread on the other thattu vadai. The ingredients for the sandwich are placed in-between both thattu vadai crackers. Your Salem thattu vadai is ready to eat!
Dindigul Thalapakattu Chicken Biryani
Biryani is a dish consisting of rice, spices, vegetables, and meat. Dindigul biryani comes from the Dindigul District of Tamil Nadu. To make this dish, coriander, fennel, and cumin seeds are placed into a grinder. Cinnamon, pepper, cloves, cardamom, bay leaf, mace, star anise, kalpasi, and cashews are also added to the grinder and all of the ingredients are ground to a fine powder. Shallots, garlic, ginger, green chili, and coriander and mint leaves are placed into a grinder and ground into a paste. The paste and masala powder is sautéed in a pot with turmeric powder, curd, and red chili powder. Chopped chicken breasts are boiled in the pot with the mixture and water. Lemon juice, coriander leaves, and more water are added to the pot. The extra water is used to boil rice. Once the chicken and rice are cooked, the biryani is ready to eat as is.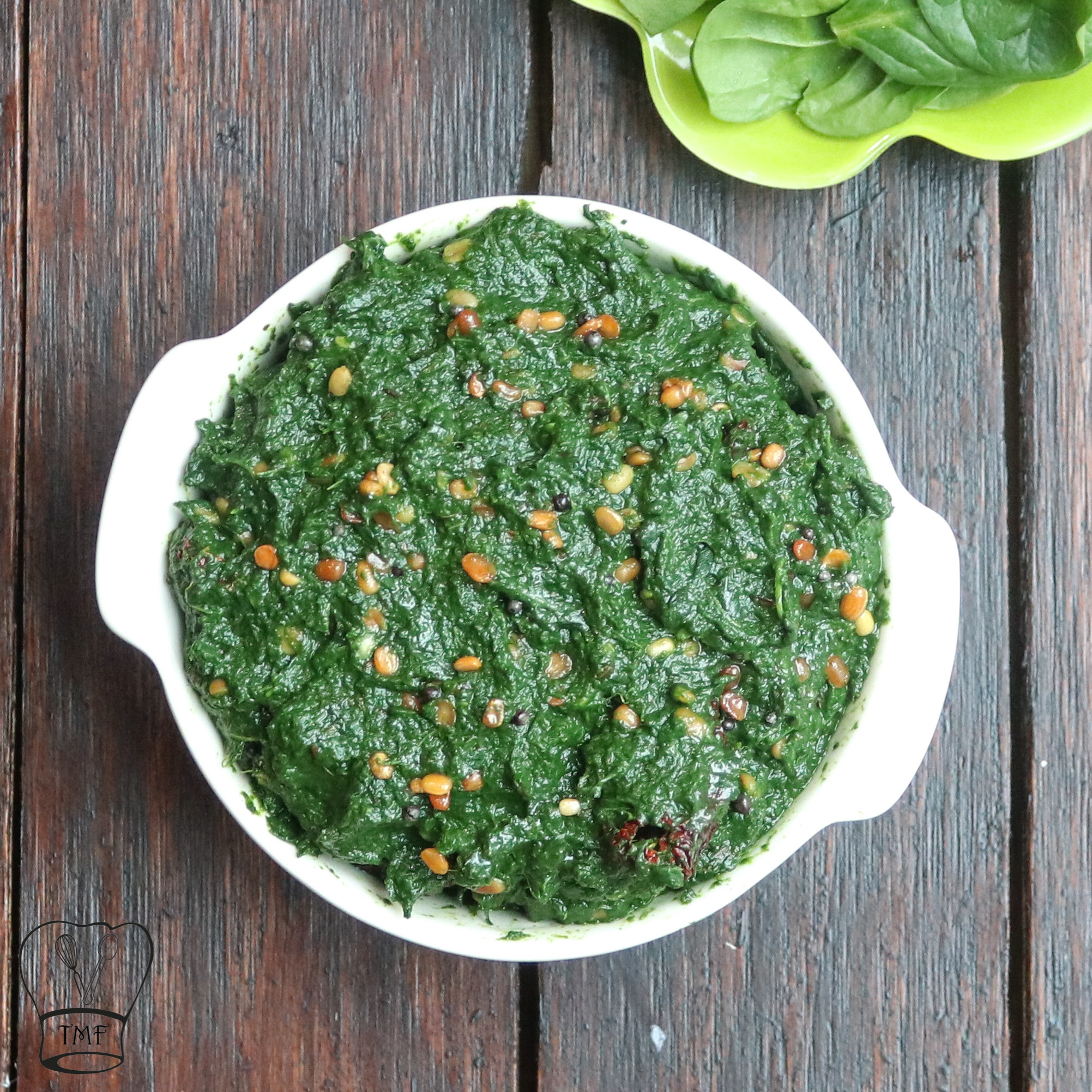 Keerai Masiyal
Keerai masiyal is a popular dish in the Thanjavur District of Tamil Nadu. It's  a vegetarian dish and is made in many Brahmin households. It's pretty simple to make. Spinach is boiled in water, then puréed with garlic. Mustard seeds, urad dal, cumin seeds, curry leaves, and red chilies are sautéed in ghee and simply placed on top of the spinach and garlic purée. It can be served as a side dish or with rice.
Meen Kulambu
Meen kulambu, also known as tamarind fish curry, is a delicious curry that is very popular in Madurai and in the Chettinad region of Tamil Nadu's Sivagangai district. Many different types of fish can be used for this curry, but black sole, mackerel or anchovies are popular. Fennel seeds, cumin seeds, black pepper, garlic, coconut, and shallots are sauteed before being ground into a masala paste. Roasted curry leaves, fennel, fenugreek and cumin seeds are added to the paste. Tamarind juice, green chilies, coriander powder,  red chili powder, and the fish are added to the mixture and boiled. Serve this delicious curry with rice and parotta or dosa.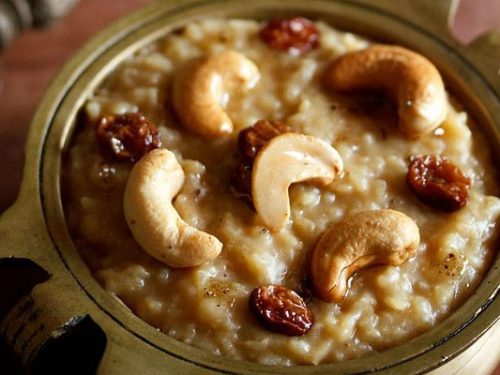 Sakkarai Pongal
Pongal is a dish that originated in Tamil Nadu. There are different variations for different purposes. It is frequently eaten as a breakfast food, used in temple offerings, and made during the Pongal Festival. Sakkarai pongal is a sweet pongal that is served in Hindu temples after being used as an offering. Sakkarai pongal is quite simple to prepare. Rice and moong dal (split mung beans) is cooked in a pot. When they are done, ghee is mixed into the pot with the rice and lentils. Raisins, cashews, dry coconut, cardamom powder, and cloves are roasted in a pan with ghee. This mixture is added to a pot of melted jaggery. The pot boils for a few minutes before being poured into the pot of cooked rice and lentils. Sakkarai pongal is the perfect dish for special occasions and Hindu festivals.
Chicken 65
One of my favorites is chicken 65. This dish originated in Chennai, the capital of Tamil Nadu. Its spicy flavor can be attributed to the red chilies used in the masala. Chicken 65 is popular internationally and can be eaten as an appetizer, entrée, or side dish. The chicken is fried after being marinated in yogurt, ginger and garlic paste, curry leaves, and a spicy masala. To bring out its bold flavors, the fried chicken is tossed in a tadka, which is a blend of spices roasted with oil.
Jigarthanda 
Jigarthanda is a cold drink that originated in Madurai, Tamil Nadu. It's made from badam pisin (almond gum), nannari syrup, palkova, reduced milk, and ice cream from reduced milk. The drink is created by putting nannari syrup and badam pisin in a cup and pouring milk into it. A scoop of the ice cream is placed on top and served immediately. While creating the drink does not take long, making the ice cream is time-consuming. Store-bought vanilla ice cream can be substituted, but the ice cream would have to be melted and refrozen after adding khoya to it in order to get the authentic taste.
Chicken Madras
Another delicious chicken curry originating from Chennai is chicken Madras. Tomatoes, garlic and ginger are ground into a paste. Chicken, turmeric powder, red chili powder, and coriander powder are placed into a pot. The masala paste, onions, and water are added to the pot. Fennel seeds, cloves, cinnamon, and cardamom are either dry-roasted or roasted in oil. Then, the roasted spices are put into the boiling pot, along with green chilies and curry leaves. Finally, coconut paste or coconut milk are added to the mixture. Finish by garnishing this dish with coriander leaves. Chicken madras is best served with rice and your favorite South Indian bread, such as dosa, parotta, or chapathi.
---
Share This Post On
0 comments
---
Leave a comment

You need to login to leave a comment. Log-in
---