Satire always has been an important aspect in showing your dissent to the authority and making people understand complex things with a dose of laughter. After the 2016 Election, the Trump Era started in the US, and it was controversial and at times silly for journalists to cover it. In this time a new type of reporting and journalism was established, and it was backed by satire and reporting. Trevor Noah, Stephen Colbert, Jimmy Fallon and  Larry Willmore  were some of the rising faces in the US, since Donald J Trump took office.
The question arises, why does satire work and does a better job than the traditional journalistic institutions? One of the main reasons is people relate and understand things more when the news is simplified and fun-filled. According to the Oxford study on satire and journalism, one of the main reasons' satires helping in news coverage is that satire tends to be culturally specific and that's why people relate to it more and show more interest in it than traditional news. According to a study by the Ohio state university "Satirical news shouldn't be disregarded just because its goal is to make people laugh. It still has an impact, just like serious news does." In this study, the researcher also added that "The important point is that satirical news did affect political efficacy, as well as on political attitudes."
In the traditional news coverage, it always talks about this side Vs that side, e.g., Left v right or Congress vs BJP and all you see is the sides and not the news. If you on your TV now, you would see one thing, 6 small boxes and in those boxes 6 people fighting each other on any topic possible, these are known as partisan pundits who just know how to defend their issues. Due to this, you do not get the message that is supposed to be delivered.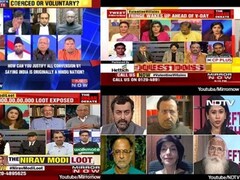 On the other hand, these satiric news shows do not have late-night debates as they do not work. These shows call out what is wrong, and they do not indulge in what the partisan pundits have to say about a matter. In a Vox video by Carlos Maza titled "Comedians have figured out the trick to covering Trump," he says that "the political satire has a very low Tolerance for Bullsh*t" and that is true. These shows do not cover every claim by a politician as truth they call out what is wrong as wrong. That is one thing why they become so popular in the internet age as they do not stand tolerating any political games.
One more important thing is how easily the explanation of news becomes in a satirical way. E.g., when Hassan Minhaj was covering a segment on the Indian election, he made it easy by narrating it with jokes and references that people in the United States can relate to. He later interviewed Congress Leader Shashi Tharoor and asked him questions in a satirical way he even asked him which politician is he more like that way the US audience understood what Indian leaders are.
In India channels like Scoop Whoop Buzzfeed, news laundry is some of the institutions which do not subscribe to the traditional journalistic approach. They use satire to explain things and they are not funded by the political entity so that's a plus point that gives them enough space to put up what the truth is and what is propaganda.
These channels have an upper hand even in interviews, for e.g., Scoop whoop unscripted has a series called off the record where they talk with politicians on contemporary issues and satire does help them in covering topics that people do not cover in regular interviews. They talk about family and personal issues when asked to BJP Delhi President in an Off the Record that how is this interview going, he said "I don't feel like this is an interview I feel like this is a chat". This is a reason why satire does a better job because a person relates to an issue more when he laughs about it.
These shows are not only covering political news, but they are also doing remarkable groundwork, citing an example, Samdish Bhatia did an amazing job by taking on issues that were considered taboo in India and not only that, but he also did a remarkable job in the Covid times by covering small villages and reporting the unfortunate conditions and making sure that the authorities comply with it and improve the conditions. The majority of channels in India have financial ties with a political organization and so it stops them from reporting and crossing the parties' lines but on the other hand channels like Scoop whoop and Buzzfeed are an independent organization on the internet so they do not have any onus on them for following a set ideology and it gives them more freedom to report on what they want.
Satirical news is particularly famous among the youth and as it is on the internet it is becoming the news of the internet and it is replacing the place of serious news on the internet and is finally giving people an alternative from the loud and particularly outdated news culture in the country. As it is on the internet it is not regulated and hence it is not suppressed by any other power.
These new shows and channels are trying to introduce and change how the news coverage is done and are trying to introduce something new and humorous. Will this ever make a change in India where news is a serious subject and has always been covered by big corporations? Will it ever be something different than this or are we stuck with the same old loud debates which do nothing but contribute to noise pollution? The answers to these questions will be answered only with time.
---
Share This Post On
0 comments
---
Leave a comment

You need to login to leave a comment. Log-in
---