Photo by Casey Curry/AP
We all love 'Mrs Potts' from Beauty and the Beast. Well, do you know who the voice behind the character is? Let's take a minute to honour the amazing artist Dame Angela Lansbury.
Dame Angela Lansbury, whose career spanned eight decades, passed away on October 11 in her Los Angeles home at 96.
Her family announced her passing in a statement yesterday: "The children of Dame Angela Lansbury are sad to announce that their mother died peacefully in her sleep at home in Los Angeles at 1:30AM today, Tuesday, October 11, 2022, just five days shy of her 97th birthday. In addition to her three children, Anthony, Deirdre, and David, she is survived by three grandchildren, Peter, Katherine and Ian, plus five great grandchildren and her brother, producer Edgar Lansbury. She was proceeded in death by her husband of 53 years, [actor] Peter Shaw. A private family ceremony will be held at a date to be determined." 
80 Years of Lansbury
Lansbury was born on October 16, 1925, in Regents Park, Central London. She moved to New York in 1940 to study acting and escape the Blitz, according to IMDB.com.
Lansbury was nominated for three Academy Awards throughout her career. She earned her first nomination at 19 for her first film role, Gaslight, in 1944. "I didn't really know what I was doing," she said during the award..  She was nominated for The Picture of Dorian Gray in 1945 and again in 1962 for The Manchurian Candidate. The Academy Awards eventually gave Lansbury an honorary Oscar for lifetime achievement in 2013.
One of Lansbury's most famous roles was playing the amateur detective Jessica Fletcher in the TV series Murder, She Wrote for 12 years. Throughout the nine season-stint, Lansbury was nominated for 18 Primetime Emmy Awards but didn't win. "Jessica Fletcher was probably about as close not to me, but to the sort of woman I might have been had I not been an actress," Lansbury told the New York Times. (Perhaps it's no wonder that Lansbury has not just one but two stars on the Hollywood Walk of Fame for film and television.)
However, the younger generation may also recognize Lansbury as the voice of Mrs. Potts in Beauty and the Beast (1991) and the Dowager Empress Marie in Anastasia (1997).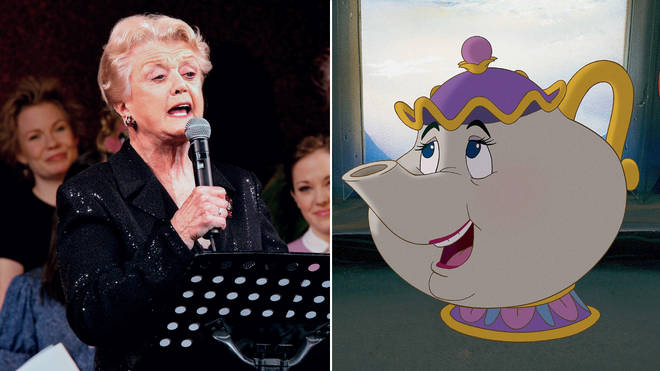 Lansbury not only lit up the big and small screens but also the stages of Broadway. She won five out of her seven Tony nominations, including Mame (1966), Dear World (1969), Gypsy (1974), Sweeny Todd (1979), and Blithe Spirit (2009). Lansbury was also awarded a lifetime achievement Tony award in 2022.
In 2014, the late Queen Elizabeth made Lansbury a Dame for her services in drama and charity.
Lansbury's death inspired a myriad of tributes from her fans and colleagues. In honor of Lansbury, NASA shared a stunning photo of a cosmic rose from their Spitzer Space Telescope. NASA included the famous lines from Beauty and the Beast, "Tale as old as time, true as it can be," in their tweet. 
When asked what her legacy would be, Lansbury replied, "That through my acting, I enabled people to get out of their own lives and to be allowed to be transported into other areas of life that they otherwise would never have. I'd love to be able to feel that I enabled people to do that. Life is so hard for so many people."
What are some of her movies that you enjoyed? Let's remember her in the comments through various roles.
---
Share This Post On
0 comments
---
Leave a comment

You need to login to leave a comment. Log-in
---