The India Meteorological Department (IMD) has predicted that Cyclone Biparjoy would continue to strengthen over the next few days and may become an Extremely Severe Cyclonic Storm by tonight.
IMD in its latest update on Cyclone Biparjoy has said that the storm has aintensified into an 'extremely severe cyclonic storm' and is likely to cross Saurashtra-Kutch on around 15 June as a 'very severe cyclonic storm'.
In Gujarat, thunderstorm activity is expected over the next five days, and wind speeds will stay high.
On Sunday morning, the IMD reported that the very strong cyclonic storm "Biparjoy" was concentrated over the east-central Arabian Sea about 480 km south-southwest of Porbandar, 530 km south-southwest of Dwarka, and 610 km south-southwest of Naliya in Kutch.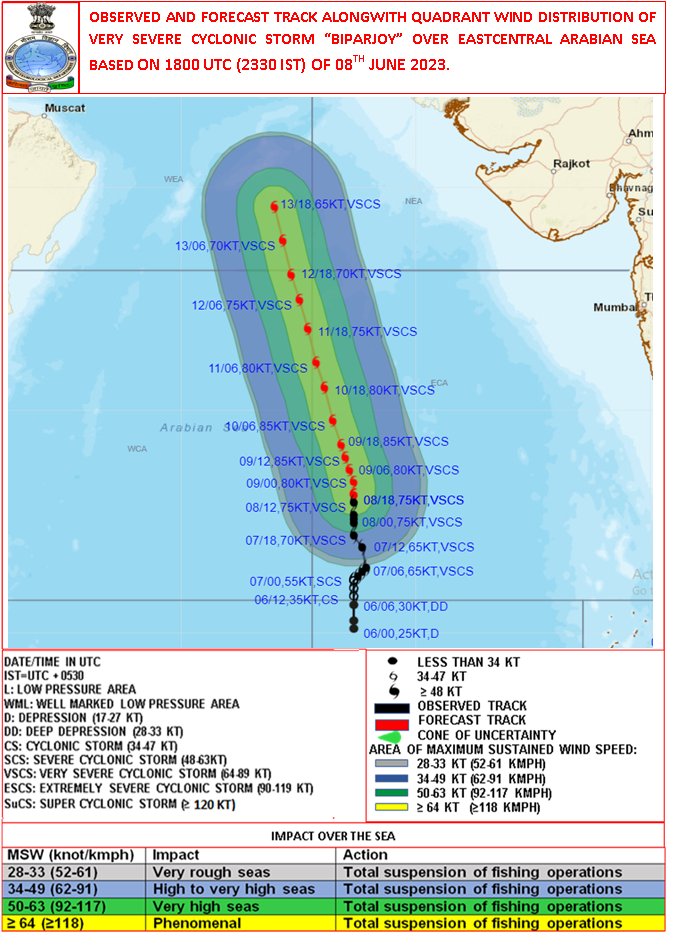 High waves and strong winds have forced the temporary closure of Tithal Beach, a well-known tourist spot in Gujarat's Valsad on the Arabian Sea coast. 
In an advisory that was released early on Sunday, the IMD stated that along and off the coasts of Saurashtra and Kutch, daytime wind speeds will reach 40 to 50 kmph with gusts up to 60 kmph.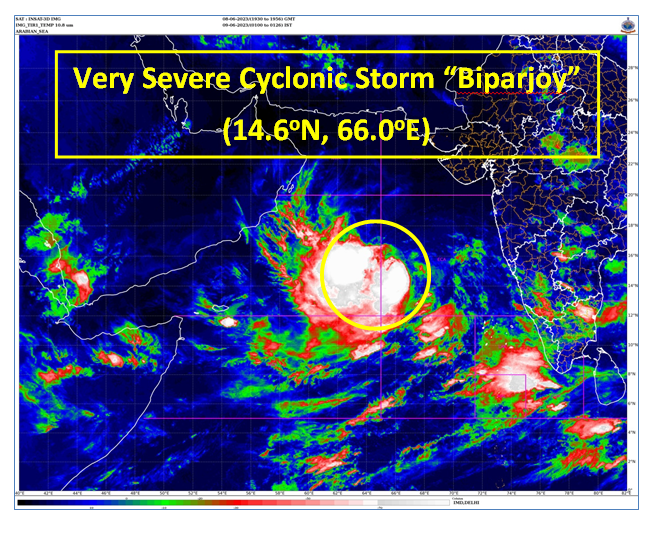 Fishermen have been cautioned by the IMD not to enter into the waters along the coasts of Gujarat, Kerala, Karnataka, and Lakshadweep. The Indian Coast Guard has been taking appropriate precautions as the tropical storm intensifies over the Arabian Sea at all of its coastal outposts during the past week.
Ports are mandated by international maritime law to hoist signals warning vessels of approaching bad weather conditions. This protects ships and their crews and ensures the security of maritime operations.
Authorities in Sindh and Balochistan have also been urged to keep cautious by the Pakistani government. According to Pakistan Meteorological Department (PMD), rain and thunder are likely to start falling on the beaches of Sindh and Makran starting on June 13 at night.
Fact - Bangladesh has given the storm the name Biparjoy. The name is Bengali for "disaster" or "calamity." 
---
Share This Post On
0 comments
---
Leave a comment

You need to login to leave a comment. Log-in
---