Over 34,000 people are still struggling to survive the floods in Assam's nine districts, according to an official, who noted that the situation remained serious on Wednesday morning following heavy rainfall at many locations.
The Brahmaputra and its tributaries may experience rising water levels as a result of the heavy to extremely severe rainfall that the Bhutan Government and the India Meteorological Department have forecast for the upper catchment areas over the next several days.
The Royal Government of Bhutan has issued a weather advisory stating that cloudy weather with light to moderate rainfall may occur in isolated areas of the country in the upcoming two to three days, potentially causing an increase in water levels in the Brahmaputra and its tributaries. The Assam State Disaster Management Authority (ASDMA) confirmed this information.
The agency added that flooding in the western part of the state had been brought on by ongoing rains in both Bhutan and Assam's higher catchment areas, as well as the release of water from the Kurichhu Dam in the neighbouring nation.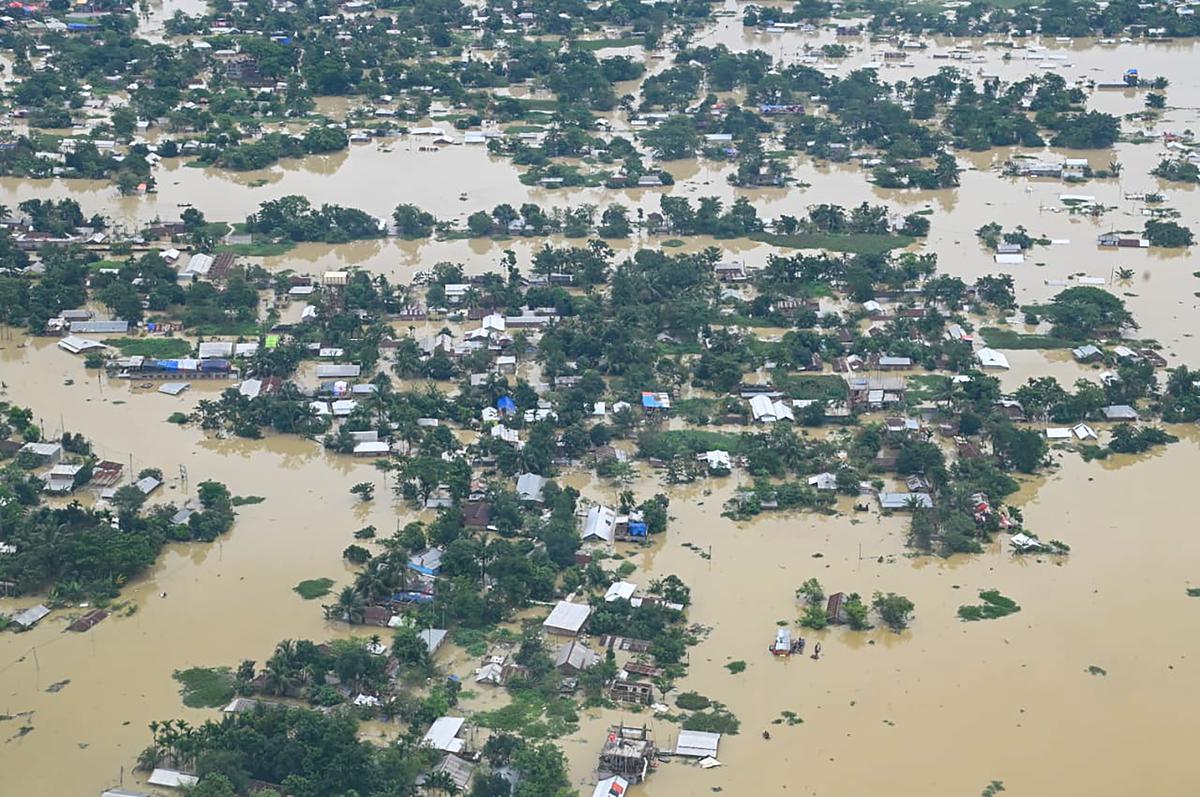 A "Red Alert" was also issued by the India Meteorological Department, which foresaw "very heavy" to "extremely heavy" rainfall over several Assamese districts in the coming days. This will be followed by an "Orange Alert" for Wednesday and a "Yellow Alert" for Thursday.
In the Baksa, Barpeta, Darrang, Dibrugarh, Kokrajhar, Lakhimpur, Nalbari, Sonitpur, and Udalguri districts, flooding has affected close to 34,100 people, according to the ASDMA's daily flood report.
With almost 22,000 impacted, Lakhimpur is the worst-affected district, followed by Kokrajhar with more than 2,700 people and Dibrugarh with about 3,900.
The administration has been running 24 relief distribution facilities in four districts in addition to one relief camp in Kokrajhar, where 56 people have sought refuge.
Currently, 5,842 and 523 communities are submerged in water. According to ASDMA, croplands totalling 78 hectares have been devastated in Assam.
ASDMA reported that Barpeta, Sonitpur, Bongaigaon, Dhubri, Dibrugarh, Golaghat, Kamrup, Morigaon, Nalbari, Sivasagar, and Udalguri had all seen significant erosion.
Heavy rainfall has caused landslides in places including Cachar, Dima Hasao, and Karimganj.
Flood waters at Udalguri, Sonitpur, Darrang, Bongaigaon, Chirang, Dhubri, Goalpara, Kamrup, Karimganj, Kokrajhar, Nagaon, Nalbari, and Barpeta have damaged embankments, roads, bridges, and other infrastructure.
Many locations from the Darrang, Jorhat, Kamrup Metropolitan, Kokrajhar, and Nalbari districts were flooded into urban centres.
---
Share This Post On
0 comments
---
Leave a comment

You need to login to leave a comment. Log-in
---