New Delhi, India: In a media briefing on Tuesday, December 14, Indian Foreign Secretary Harsh Vardhan Shringla said that the recent incidence of communal disturbances did not influence the bilateral relationship between New Delhi and Dhaka. Further, he added that the two nations' ties had reached a "high point" in recent years.
President Ram Nath Kovind will visit Bangladesh from the 15th to the 17th of December to commemorate the 50th anniversary of 'Victory Day' and the independence of Bangladesh.
Last week, the Foreign Secretary paid a visit to Bangladesh, where he met Prime Minister Sheikh Hasina and reviewed current connectivity initiatives. These initiatives intend to strengthen strategic and economic connections between the two countries. "Having just visited the nation, I would fully dispel any impression or perception that the relationship is in any way strained. The partnership is free of tension, and both the nations share an extraordinary relationship," Shringla said at a press conference.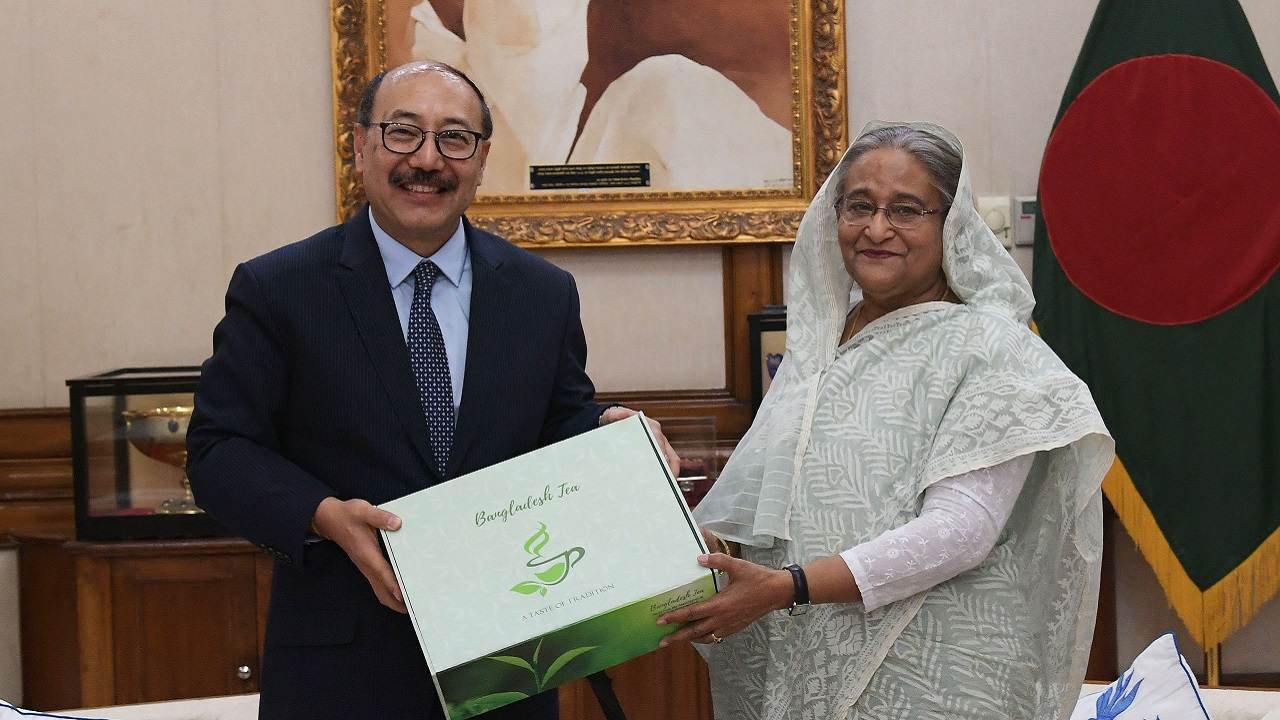 Due to their diverse nature, bilateral relations have achieved a pinnacle, touching on deep historical and cultural links, further enhanced by close people-to-people contacts. Only a few nations have a strong leadership vision and direction, which already is the foundation of the relations shared by India and Bangladesh. He reasoned that this showed the bond's strength.
Bangladesh had a surge of sectarian violence during Durga Puja in October this year, with the minority Hindu population under target.
Shringla indicated that India would endeavour to successfully manage its relationships with its neighbours, focusing on the present as an excellent opportunity to establish this collaboration. The issues arising in the interim need to be addressed by the various stakeholders, and India intends to raise such unresolved issues to facilitate discussions.
Indian Prime Minister had also visited Dhaka earlier this year for the first time since the Covid pandemic. Presently, the President's visit, according to Shringla, is also an occasion to recognise the depth and dynamism in the bilateral ties.
"India is currently one of Bangladesh's most important commercial partners. In South Asia, Bangladesh is India's most important trading partner. Despite the pandemic, bilateral trade increased by 14%, reaching $10.78 billion in 2020-21, up from $9.46 billion in 2019-20, according to Shringla.
India and Bangladesh are now "better connected than ever before," he added. Hydrocarbons such as diesel, according to Shringla, would soon pass via the 'Friendship Pipeline' connecting India and Bangladesh.
Recently, the United States had imposed sanctions on Bangladeshi security officers leading to multiple apprehensions around the Indian President's visit. According to Shringla, President Kovind's visit includes a bilateral component. The US's recent efforts to punish some of Bangladesh's senior leaders have no bearing on the trip. " We normally don't comment on third-country relations since our focus is on our bilateral relationship." And, on this occasion, I'd want to refrain from making any statements that are unconnected to the visit or our immediate objectives," he clarified.
India- Bangladesh Relations
India established diplomatic relations with Bangladesh soon after its independence (December 1971) and signed the India- Bangladesh Treaty of Friendship, Cooperation and Peace in 1972. Since then, both the countries have shared ideas of democracy, secularism, cooperation and, this win-win partnership goes beyond a strategic alliance.
History
Bangladesh was known as East Pakistan until 1971 when Pakistan oppressed its people. It encouraged large-scale refugee infiltrations into India, which posed a security concern for India. The independence of Bangladesh, that is, the separation of East Pakistan from West Pakistan, refuted the idea of the two-nation theory. The India-Bangladesh Treaty of Friendship, Cooperation, and Peace was signed after India became the first country to recognise Bangladesh's sovereignty. A well-known example of language nationalism is Bangladesh's identity. We have strong cultural links, mainly because Bangladesh and West Bengal, India, share a linguistic resemblance.
Political Engagements
Both the nations have regular exchanges, alongside 50 bilateral dialogue mechanisms covering security, trade, power, transport, science and technology. India and Bangladesh are members of SAARC, BBIN, BIMSTEC and the Commonwealth. Another aspect showcasing the bilateral commitments is Bangladesh's support to India's membership in the UNSC permanent membership bid.
Economic Partnerships
Bangladesh is India's most significant South Asian trading partner, with a USD 9.5 billion trade between the two nations. India provided Bangladesh with USD 8 billion in economic support. India's development support in this country comprises both soft loans and grants. The concessional line of credit is worth USD 10 billion.
Cooperation on power and energy includes Indian exports of electricity to Bangladesh to supply them with 25% of their energy needs. Bangladesh signed an agreement to send LNG to India. It demonstrates the countries' economic connection.
Russia, India and Bangladesh have signed a trilateral agreement to build the Rooppur Nuclear Power Plant in Bangladesh. Bangladeshi scientists receive training from India.
Security issues
Bangladesh is key to the security of India's northeast states therefore, terrorism should not be allowed to raise its head there. Another aspect is the potential rise in sea level facilitated by Climate Change that might cause havoc in Bangladesh, resulting in migration to India's northeast.
Chinese ambition to construct a port in Bangladesh as part of the String of Pearls is a concern for India.
Military Partnerships
Bangladesh is a member of IORA and IONS. There are military exercises between Bangladesh and India.
Cover Image: Indian Express
---
Share This Post On
0 comments
---
Leave a comment

You need to login to leave a comment. Log-in
---