Zomato is famous for its customer service, and to some extent, it always wins the heart of the public with its services and campaigns. No matter what happens in the case of food delivery, most people put Zomato on their priority list. Spread across 525 cities in India, Zomato has recorded 32.1 million users, out of which 6.8 million did the transactions.
"Every meal matters" is the motto of Zomato, for which they have been very much proactive regarding their services.
 Zomato has become a 'Hot Potato'
Food delivery company landed into a controversy.  During a grievance redressal conversation, an employee told a customer that Hindi should be known by everyone, as it is our national language.
Customer Vikas, from Chennai, had ordered food from a local restaurant on Monday. As per his delivery, one of the food items was missing from the order. To get back, he dialed customer service to get the issue resolved. The customer service executive said that there was a language barrier because of which the objection was not accepted, and hence the issue remained afresh.
Vikas had requested further assistance. As a result, he replied that you should be familiar with Hindi since it is our national language. Agitated by this, Vikas had posted a screenshot of their conservation on Twitter.  Hashtag Reject Zomato started trending on the platform and received a lot of criticisms. The post has received more than 4500 likes, 2500 retweets, and more than 20k tweets were under this hashtag. The other hashtag that escorted was #StopHindiImposition and #Hindi_Theriyathu_Poda. Zomato faced a counterblast for imposing a language on their customers and not embracing the diverse culture we retain.
An apology, which calmed the hot fire
It is not the first time Zomato has apologized. The company has offered apologies several times, and customers have appreciated it. The company has never ignored complaints.
According to the company, the agent was terminated "for negligence towards the diversity of our culture." Later, Zomato founder Deepinder Goyal announced on Twitter that the employee would be put back saying, she should not have been fired for this matter and that she could do better by going forward. He said the country needed to be more tolerant than it was at present, in the light of the social media outrage over the issue.
A single mistake made by Zomato in the customer service office of a food delivery company has become a national issue. We need a much higher level of tolerance and chill in our country than we have at the moment. "Who's at fault?" he asked.
 We have young people toiling in our call centers who are at the commencement of their careers and learning curves. Their knowledge of languages and regional sentiments is limited. In defense of the young employees of Zomato, Mr. Goyal added, "neither am I.".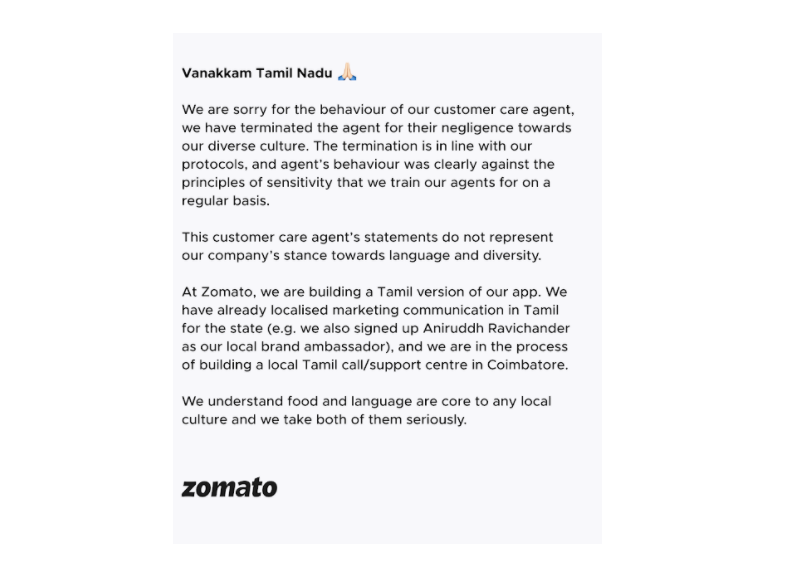 What motivates politicians to evolve as vocal on such issues but not on matters of greater national interest?
 As soon as the tweet went viral, several political leaders criticized Zomato. Dravida Munnetra Kazhagam (DMK) MP Kanimozhi demanded that companies offer customer service in the native tongue of the nation. Many companies deliver customer care in specific languages only. Providing services in the local languages of the customers' should be mandatory for companies. Customers do not have to speak Hindi or English to use these services. On Twitter, she wrote, "#Hindi_Theriyathu_Poda.".
 In the tweet by handle @Iamdrgautham, the user wrote "Hindi is the official language of the union government." It is not the national language of India. A customer service representative should know Tamil if you are providing services in Tamil Nadu. Your job is to assist customers, and you are paid, for that service. Do not teach customers to learn."
According to another user, @MuthuKr09565211, India is special because it contains so many people from various cultures and languages united together in one country. Do not refer to yourself as Indian if you cannot respect other languages or cultures. @zomato #Reject_Zomato. #HindiIsNotNationalLanguage.
Zomato is Building up in Tamil Nadu


Zomato said it is formulating a Tamil version of its mobile app and has started localizing its marketing communications in the language of the state.
The company also indicated that it had enlisted Tamil musician Anirudh Ravichander as its local brand ambassador. During this period, the company was growing a local Tamil call/support center in Coimbatore, Tamil Nadu.
We take food and language seriously since both are integral to local culture," Zomato says.
---
Share This Post On
0 comments
---
Leave a comment

You need to login to leave a comment. Log-in
---