With less than 100 days till Durga Puja, West Bengal's largest festival, organisers have recommended a set of COVID 19 recommendations for use during the pandemic. Along with other places, Kolkata is also preparing herself to welcome Maa Durga in less than two months. Meanwhile, the famous 66 Pally Puja Committee has decided to conduct the entire Durga Puja rituals by four priestesses.
After the demise of their male priest last year, the Puja Committee has decided to go with a change, to celebrate women's empowerment and smash gender inequality. They have decided to give the responsibility to Shubhamastu, led by Dr Nandini Bhowmik and her fellow female priests - Ruma Roy, Semanti Banerjee, and Paulomi Chakraborty. "Shubhamastu", is a Sanskrit term that translates to "let it prosper" was founded by Dr. Nandini in 2009, an Indologist and visiting faculty at Jadavpur University. Bhowmik did all the religious rituals at her sister's wedding and that is how everything started, but the idea was planted by her Professor Gauri Dharmapal at Lady Brabourne College, Sanskrit Department. 
66 Pally's theme for this year is "Mayer Haathe Maayer Abedon", which translates to Mother Goddess worshipped by mothers. 
The idea is not just to normalise women conducting religious rituals but breaking other boundaries – religion, language, caste. Shubhamastu is not rigid about dates and auspicious timings for performing rituals or any such superstitions. They even perform Tagore's songs along with rituals and chants. 
According to ancient Vedic literature, men and women and classified and they hold different identical socio-political position, with rituals like "kanyadaan", where father hands over his daughter to the husband during marriage and the groom offering "lojja bostro" (cloak of shame) to the bride in a Bengali wedding. Shubhasmastu strongly condemns these types of rituals and says these rituals were added much later to serve the patriarchal society.
Any type of religious ritual can be performed by any person, regardless of caste, religion, or gender. The four priests refuse to say their surnames when they introduce themselves to challenge the Brahminical hegemony in the Hindu Society. "I remember this one time when someone said to me that it's easy for me to do and say what I do because I am a Brahmin. Ever since the four of us decided to not mention our surnames while introducing ourselves at ceremonies," Nandini said. Not all members of Shubhamastu are Brahmins. "This didn't happen consciously, but we are glad that it happened," Semanti said to Firstpost.
"In the 21st century, being born into a Brahmin family should not be a free pass for anyone to do as they please. An individual should not only be deserving of their job and social status but show an eagerness to maintain their positions as well," Nandini said earlier.
The 2020 Bengali film "Brahma Janen Gopon Kommoti", acted by Ritabhari Chakraborty was inspired by Nandini's life and journey as a priestess.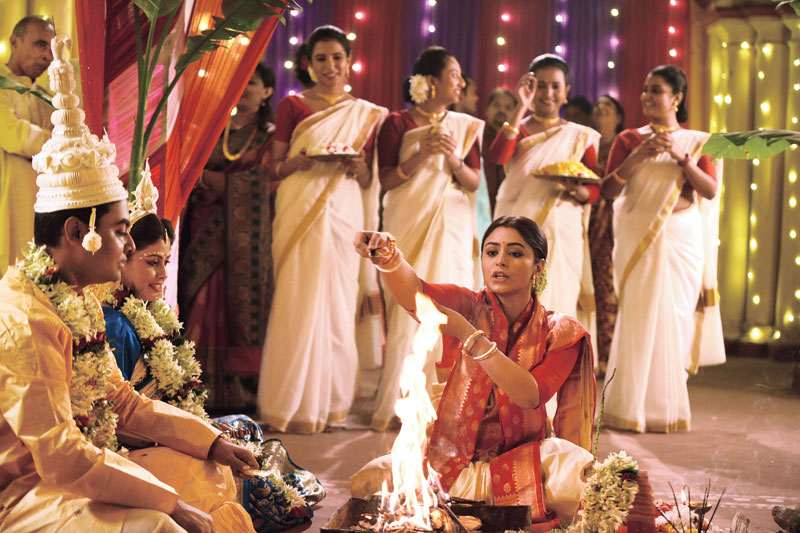 Talking about the deep-rooted patriarchal beliefs in religious rituals and all the other discriminations Pradyuna Mukherjee, senior office-bearer of the 66 Pally Puja Committee said, "Don't women make all the arrangements for conducting puja rituals in household and para puja? If there can be women clay modellers if there can be women organisers, why not women priests?" 
Women Priests performing rituals is not a common scene in India. Dia Mirza's wedding performed by priestesses earlier this year has caught the spotlight. We hope Kolkata's Durga Puja this year will be able to counter the age-old regressive practices to bring much-needed changes in the mindsets of society. Since a profession should not be decided on how you were born but how much you want to do the work and how much responsibility you can take regardless of, gender, caste, or religion.
---
Share This Post On
0 comments
---
Leave a comment

You need to login to leave a comment. Log-in
---