As the new year begins, the fight for abortion rights continues. Last year in June 2022, the U.S. Supreme Court overturned Roe v. Wade. For half a century, Roe V. Wade legalized abortion in the U.S. and guaranteed women the right to have an abortion. The ruling decision made in 1973, ensured that states could not implement laws banning abortion. The overturn will have severe implications for women in the U.S. and their rights as human beings. 
The overturn of Roe V. Wade opens up the opportunity for states to be able to decide their abortion laws. It will not reduce the number of people seeking abortions but instead result in more people being harmed or dying from getting unsafe abortions. Women will be forced to carry unwanted pregnancies to term. There will be an increase in maternal and infant mortality, creating an unsafe and extremely dangerous environment in the U.S. for women to give birth. 
Roe being overturned means that women have lost constitutional protection of having an abortion with states having the opportunity to decide what kind of restrictions can be passed on abortion. Across the country, some states have legal protections in place to ensure abortion remains legal, however, other states have banned or severely restricted abortion. Women will seek safe abortions in another state if their home state bans it. This will only create chaos and fear from healthcare providers who perform abortions and from women all around the country.
Since the overturn of Roe V. Wade, thirteen states have passed laws banning abortion, with thirteen more likely to follow this decision. These serious decisions by states will ensure that abortion will become illegal or highly restricted in more than half of the country. At least 300,000 pregnant women across the U.S. will be affected by the bans on abortion. With the overturn, terminations of pregnancies of incest or rape will also be banned with no exceptions. Women all around the country, whether they are seeking an abortion or not, are no longer safe as they have lost a human right. Nabeeha Kazi Hutchins, president, and CEO of PAI said "We are facing a fundamental attack on the civil rights of all Americans- the right to privacy, the right to healthcare, the right to choose." 
The U.S. has failed in protecting fundamental human rights. It is very concerning considering the global expansion of abortion care. The decision of the six judges of the Supreme Court will not go unnoticed and go far beyond the people of the U.S. Not only will this decision bolster the anti-abortion movement in the U.S., but it will support these movements globally. The U.S. has long had an influence on countries around the world and their abortion policies. The fight for abortion rights is universal. Many Nations around the world still have high restrictions and laws on abortion. England, Scotland, and Wales have not yet decriminalized abortion. The struggles experienced in the U.S. will continue to have parallels all over the world. 
Not only has the constitutional right to abortion been taken away from women in the U.S., but the scope of practice for healthcare providers on abortion has also been restricted. Generally, state legislation does not outline medical care within a practitioner's scope of practice. This does not stop many states that have treated abortion differently by restricting and penalizing providers who perform an abortion in a state where it is banned. Ever since the overturn of Roe V. Wade, emergency healthcare providers have had to make ethical judgments before treating a pregnant woman whose health or life may be in danger.
 The Emergency Medical Treatment and Labor Act (EMTALA) was enacted in 1986, ensuring that everyone has access to emergency medical services regardless of their ability to pay. EMTALA is directly affected by the overturn, affecting physicians and patients with health emergencies in states that have bans on abortions. In Texas, the judge ruled that emergency abortions performed on a patient are not excluded from the state's law, which makes the performance of an abortion a felony unless it is necessary to save a patient's life.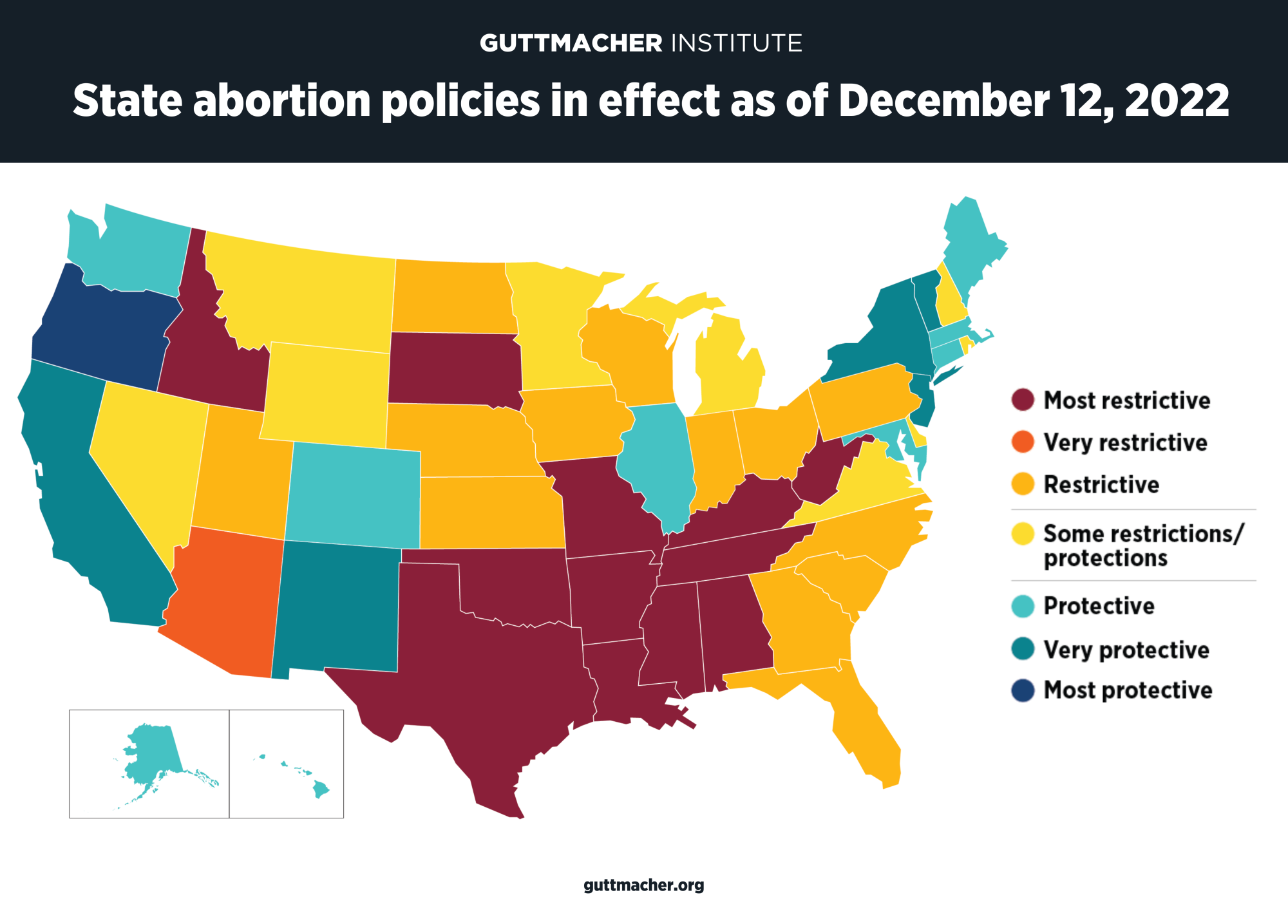 Pictured above is a map that shows states in the U.S. that have abortion restrictions on a scale from most protective to most restrictive as of December 26th, 2022. The interactive map can be found here ​​https://reproductiverights.org/maps/abortion-laws-by-state/
In Arkansas, Georgia, Idaho, Missouri, North Dakota, and Tennessee, if an abortion is performed by a healthcare professional, they will be subject to criminal prosecution. Providers in these states are only allowed to provide evidence that the abortion was necessary after they have been charged. Medical ethics is now falling into a "grey area" where providers must face a decision of treating a patient to avoid a negative outcome or face prosecution if the evidence deems the patient's condition was not life-threatening. These abortion bans have resulted in doctors hesitating on whether they should follow state law, federal law, or medical ethics. 
This year, expectations are that legal battles will continue on the state level regarding abortion rights. The Supreme Court will take up the issue in the years ahead, but with Congress divided, the odds are very low for reversing Roe v. Wade anytime soon. The challenges and struggles for women will continue in 2023 with the current lack of information, resources, and providers closing their doors to accessible abortion care. 
Abortion care is essential health care. Now, every single woman in the U.S. has lost their constitutional right to abortion as well as the right to make decisions for their own body. The U.S. Supreme Court's decision to overturn Roe v. Wade has threatened women's rights and healthcare. The fight will continue for abortion rights in 2023, not just in the U.S. but globally.
---
Share This Post On
0 comments
---
Leave a comment

You need to login to leave a comment. Log-in
---