A meeting of signatories to the United Nations Framework Convention on Climate Change (UNFCCC), a 1994 treaty with 197 members, is called a COP (Conference of Parties). The COP 26, held in Glasgow (31st October to 12th November 2021) and hosted by the United Kingdom at the Scottish Event Campus, is the 26th gathering of the Parties, thus the name. 
It is being presided by Mr Alok Sharma, a member of the UK parliament. In addition, UK Prime Minister Boris Johnson has called for world leaders to participate in a World Leaders Summit on the 1st and 2nd of November. Here, they will deliver their action plans to achieve COP goals to counter climate change.
Climate change conferences hosted by the United Nations are among the world's largest international gatherings. The debates include officials from many countries and representatives from civil society and the global news media. 
There are five areas that the conference touches upon including adaptation and resilience, nature, energy, transport and finance.
What is the Paris Agreement?
The Paris Agreement took place in 2015 during COP21. For the first time, practically every government in the world made a legally enforceable pledge to cut emissions. 
It was 'top down' in the sense that every country, no matter how big or small, committed to reducing carbon emissions to keep global warming well below 2 degrees Celsius and ideally to 1.5 degrees Celsius above pre-industrial levels. It was 'bottom up' in the sense that it left room for each country to decide how they would get there. These are known as Nationally Determined Contributions (NDCs).
The Paris Agreement also included aggressive adaptation and financing targets, recognising that many people throughout the globe are already feeling the effects of climate change and that assistance - financial, technical, and capacity building - will be required.
The Importance of 1.5 Degrees
Slight temperature changes may impact global climate patterns and damage flora and fauna, altering lifestyles and destroying livelihoods. It's apprehended that a rise as small as 2 degrees might prove catastrophic by exposing about a third of the world population to severe heat and associated issues. It will accompany the destruction of numerous warm-water coral reefs and melt the ice in the Arctic ocean.
If we continue to follow the present trends, it will result in irreparable destruction for future generations. Therefore, the countries together agreed upon limiting the global temperature rise to 1.5 degrees. Organisations claim that even at 1. 5 degrees, the repercussions will be significant but not severe. 
Reducing greenhouse gas emissions and meeting any limit set is a difficult task, provided the existing infrastructure, that leaves little scope for accommodating such changes. Therefore, domestic reforms need to steer the course of action in the coming years. At COP26 India announced its ambition to achieve net-zero emissions by 2070.
What takes on in the Conference of Parties (COP)?
The COP's activities take place in blue and green zones. You might be a member of a national delegation, work for the UN and allied organisations and agencies, or work for the media or a non-profit observer organisation in the Blue Zone. 
Delegates from several countries assemble in the Blue Zone for both official and casual discussions. They may also attend meetings with other delegations to clarify their interests and aspirations to reach an agreement or break a negotiating deadlock. The Green Zone is accessible to the general public that hosts seminars, art displays and installations, presentations, technology demonstrations, and musical performances.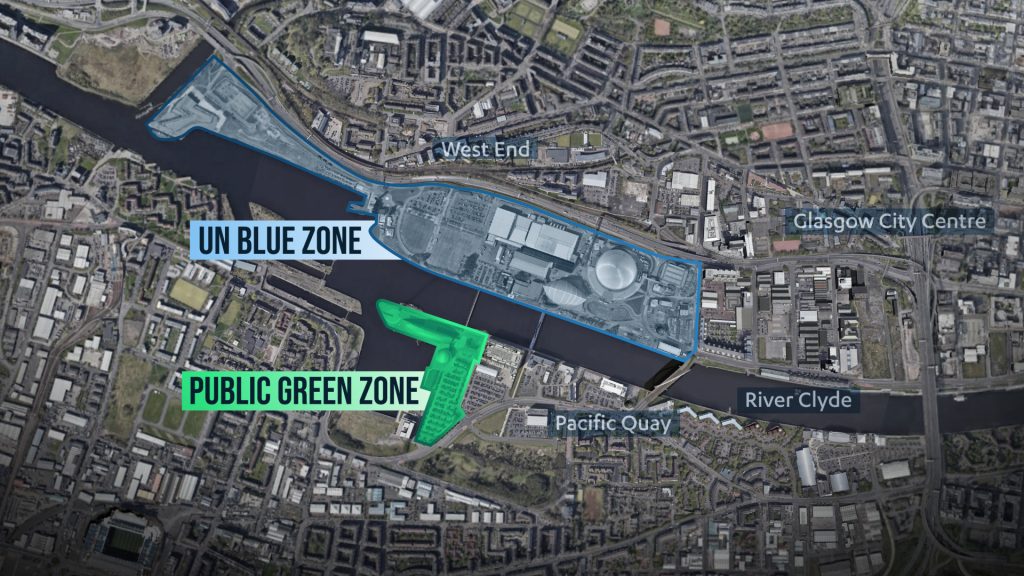 26th Conference of Parties: The Timeline
The meeting will last two weeks, commencing with the Procedural Opening of Negotiations on October 31st. November 1 and 2 will welcome international leaders to present their thoughts and ambitions, followed by debates centred on Finance, Energy, Youth and Public Empowerment, and lastly, Nature on the third, fourth, fifth, and sixth of November, respectively.
The second week of discussions will focus on adaption plans and ways for managing the loss and damage caused by climate change. Further emphasis will be on the role of gender in climate action while highlighting how science and innovation can accomplish the aforementioned aspirations. Other topics of discussion include driving the global transition to zero-emission transportation and promoting change in the places we live, from villages to cities and regions.
New Grids Initiative launched
Boris Johnson and Indian Prime Minister Narendra Modi have established a new flagship international project to speed up the worldwide transition to a clean-energy future. 
The new initiative is called "Green Grids Initiative – One Sun One World One Grid" (GGI-OSOWOG). It will accelerate the development and implementation of linked power grids while improving energy access for the poorest through mini-grids and off-grid alternatives.
It is one of the leading initiatives under the Glasgow Breakthroughs initiative, which was also launched at the clean innovation and technology event, as part of a new joint plan that will see countries and businesses coordinate and strengthen their climate actions in polluting sectors every year to dramatically scale and accelerate the deployment of clean technologies and drive down costs globally.
UK Prime Minister Boris Johnson said that the United Kingdom is collaborating with their Indian counterparts to reshape the future of the power industry and guarantee that clean and dependable electricity is available to everyone by the end of this decade. 
It's excellent that over 80 nations have endorsed the newly formed Green Grids Initiative, whose partnership will not only result in more development, jobs, and investment in the global green future but will also ensure that no one goes without energy.
Prime Minister of India, Mr Narendra Modi said at the launch that the One Sun One World One Grid and Green Grids Initiative is a well-timed initiative. These integrated transnational grids will be key answers if the world is to transition to a clean and green future. He applauded the International Solar Alliance and the UK COP Presidency for bringing it closer to reality.
Infrastructure for Resilient Island States (IRIS)
UK and India jointly launched IRIS to help Small Island Developing States build climate resilient infrastructure. India started this project to help small island nations that are vulnerable to climate change. 
The new project is the result of collaboration between India, the United Kingdom, and Australia, and it featured leaders from small island states including Fiji, Jamaica, and Mauritius. 
The IRIS initiative is a part of the Coalition for Disaster Resilient Infrastructure (CDRI), which focuses on capacity building and pilot projects, particularly in small island developing governments.
The conference now underway is crucial in that it tries to bring about systemic changes at a time when the globe is transitioning to new ways of life. The pandemic, which was followed by several severe weather occurrences, raised awareness about the negative consequences of human-caused environmental deterioration. The desire of the general populace to live in a more environmentally friendly manner will compel international leaders to follow suit.
(Edited by Nishat Aftabi)
---
Share This Post On
0 comments
---
Leave a comment

You need to login to leave a comment. Log-in
---