Kerala, often known as God's own country, is one of the popular destinations in India. Thousands of tourists from different countries are attracted to lush green plantations, serene winding backwater, spice gardens, delicious food, and rich culture in Kerala. However, Kerala has been experiencing an abnormal wild rainfall since 2018. Hundreds of people have moved out of their houses, leaving everything behind and sheltered in relief camps without the difference of caste or status. The record shows more than 400 people had died, and 15 went missing due to the heavy rain in 2018. 
Why does Kerala the first state in India to receive more heavy rain in the century?
 As you may know, Kerala is nearer to the equator than any other state, but it receives more pleasant rainfall than any other state because of its presence of West Ghats on the east and closeness to the sea. Rainfall is primarily a localized phenomenon caused by a low-pressure system that formed in the Arabian Sea. The study shows 2018's heavy rain, were triggered by a depression in the Arabian Sea, which caused intense convection over Kerala. Even though Kerala has witnessed many natural catastrophes in the previous years, that was the worst flood after the great flood, which took place in 1924. 
During 2018's extreme downpour, we observed many awful and emotional events. It remains an indelible hurt in the hearts of all Keralites. The vivid images of horrible days that flash lighting in front of my eyes as humans and animals sought to grasp life before the dark lord beckoned them subjugated to death still flash lighting in front of my eyes. Citizens have not only lost loved ones, but reports show that property loss totals US$53 billion across Kerala. Every night, we prayed that we would wake up safe and sound with our family the next day because many areas were disappearing without our knowledge. The government's decision to open the dams without warning to individuals who live in low-lying areas aroused outrage. Indian military arrived in helicopters to rescue stranded people and mute animals in the huts. Furthermore, several individuals from other states, including Tamil Nadu, used boats to save lives. Kerala has set up over 3,500 relief camps, and the worst floods in a century had caused more than 1 million people to flee their homes. Supplies were delivered to the people who had been isolated in houses and relief camps using army helicopters and commoners' boats. 
That was the year that our most celebrated festival, Onam, became the most tragic day of the year.
When the people have started to come back after a catastrophic year, in 2019, another massive deluge happened in the state. That was the time when civilians lost everything and figured out what to do next. The report shows almost 121 people have died, whereas millions had shifted to 1318 relief camps due to the flood across the state of Kerala in 2019. Watching animal rescuers risking their lives to save the animal was a heart-breaking scene; many animals have lived while some surrendered to death.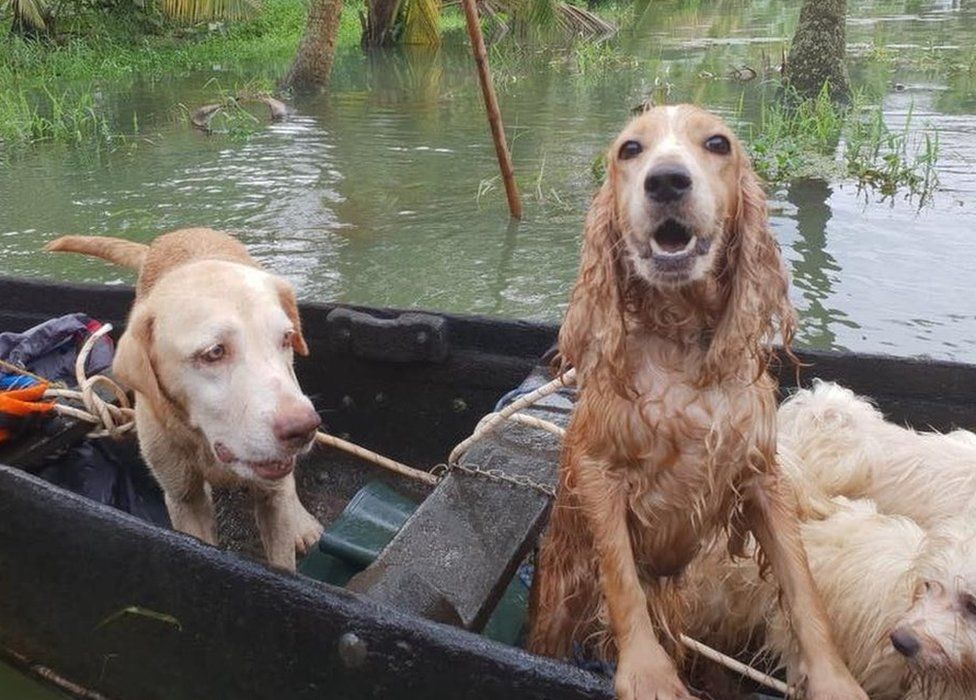 Schools and colleges were entirely closed for months, and many educational organizations had become rehabilitation camps for the people. I remember my parents preparing groceries and clothing for those who were in camps. When the two horrible deluges happened in the state of Kerala, the civilians were begging God for no more flood. We have seen enough and lost so many belongings, and we didn't want any more tragedy in our life.
However, like we usually say, God has some different plans. In 2020, we had again become the victim of heavy rainfall. The record shows almost 104 people murdered due to the heavy monsoon in Kerala in 2020. The year 2020 was a difficult time for everyone on the planet because the covid 19 virus was spreading on earth. Kerala was also facing a lot of challenges when the time of monsoon due to the covid virus. The civilians were running out of money and job. Millions of citizens had to return home due to the virus. While we seized into severe rainfall, we have struck into two tragedies in a day. 
August 7, 2020, is an unforgettable day for every citizen in Kerala. The people had woken up with the news a small city had vanished due to the sudden landslide. More than 80 people had buried under the landslide, where 40 people went missing. The rescuers rescued 15 people, whereas another 15 had to die. On the same day in the evening, the rain had created another disaster. An Air Indian Express plane had crashed at Karipur Airport, killing 19 passengers, both pilots, and many were injured. This day is considered to be one of the black Friday in Kerala history.
In 2021, history is repeating itself. Kerala is going through a very critical condition where climate shows unforeseen shifts in nature. There are a bunch of unexpected cloudbursts and landslides is happening everywhere in Kerala without any awareness. The citizens who are living in hill station are at their height risks. Every night we are going to sleep like we are not certain if we will see tomorrow or not. The relentless rain has swept away many sites, people, and residences in various parts of Kerala. Many folks whom we have wished a good night have gone to sleep and have never awoken. We had seen many heart-breaking images, such as when the mini cloudburst occurred, a mother cuddling her three children in the night when she realized she and her children were not coming back to life was unbearable. In every rainstorm, many civilians have been evicted from their homes and relocated to camps. For the past four years, ordinary people have faced various challenges because of severe climate change. Even though many received some financial bits of help from the government, other people haven't received any money from the government. Millions of people are in emotional and financial distress.  
The study shows what is causing torrential rainfall in states like Kerala, Uttarakhand this year is because of a confluence of cyclonic storms forming in the Bay of Bengal and the Arabian Sea. Climate experts warn that the intensity of rains in Kerala and Uttarakhand is "alarming" and that a "climate emergency" must be addressed immediately. According to experts, rising ocean temperatures tend to increase otherwise weak cyclones and make them more deadly than expected. India is confronting this crisis from three directions. Over the last few days, cyclonic storms have formed within the 'Bay of Bengal' and the Arabian Sea.
A serious concern of Kerala is the rise in dam water levels. The government has been opening dam gates many times without an official announcement, exacerbating Kerala's problems. The Mullaperiyar Dam crisis is one of the many issues that citizens are dealing with right now. According to studies, the average expectancy of the dams is 50, although some can go up to 100 years. The breakdown of the 126 years old Mullaperiyar Dam threatens and endangers the very existence of Kerala, whereas Tamil Nadu gains water and economic and social benefits. The claim of the State Government that a lease agreement made during the monarchy during the British occupation still exists is ill-intentioned and unreliable. Every rain, every flood, every cloudburst, every landslide is alarming as to be cautious. We know how hazardous if something happens to the Mullaperiyar dam; almost 90% of the cities will be under the water. The people in Kerala are already under a massive threat. I am not saying "before it's too late," because we know it is already too late. However, we need to take action to protect Kerala from a tremendous disaster. Kerala's only option is to demolish the obsolete Mullaperiyar Dam, which causes public unrest and fear. We have selected the Governments to protect us from the worst. However, now we feel like we are their living puppets. The government needs to be more interested in the public rather than themselves. We want a leader who leads us when we are in pain, not a talking puppet. We hope that the State Government will be more responsible and willing to take risks. 
Kerala has witnessed some strange occurrences in recent years. We had survived a succession of disasters in the previous days. We are stronger when we work together, and we can get through the worst times. We'll make it through this time.
---
Share This Post On
0 comments
---
Leave a comment

You need to login to leave a comment. Log-in
---