photo by getty images 
In the past century, soccer or "football" has become a sport that young men and women play around the globe making it a lifetime hobby. People of this generation have grown to enjoy and appreciate this sport more than how fans watched soccer games back in the 20th century. The admiration of fans has grown larger in wanting to watch and meet their legendary heroes in sports. Legend has it that any person can make it to be a good soccer athlete, but a few are lucky to become a soccer star that the whole world gossips about. It is a sport that Latinos, Americans, and people of all cultures view every year while supporting their favorite teams and players until the last second of every game. Soccer fans worldwide share their experiences and look up to players as an example of success and grow good sports leadership in and outside of the field. Becoming a professional soccer player is a career that is rare to achieve especially for people who come from small towns.
As for the legendary player "Lionel Andres Messi," he is set to be one of the greatest soccer stars in the 21st century. As a first-time 2022 World Cup champion, he is an exemplary athlete that children and adults in Argentina now look up to, creating a new hope of unity and harmony in sports in his home country. As a child, he grew up in a small-town community of Rosario, Argentina, where kids and families had few resources to receive a good education for their children. Children at a young age learn many skills and develop knowledge of what they want and desire when they grow up. In his childhood, he played in a little league, "Newell's Old Boys," and with his siblings as a hobby dreaming to be a professional athlete. It was when he crossed paths to watch the Argentina legend "Diego Maradona," on live television, who also played for the FIFA World Cup after his championship victory in 1986.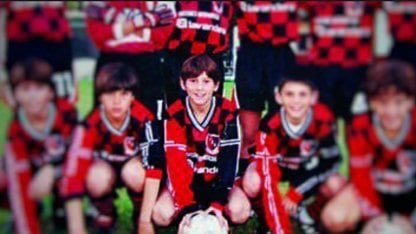 Photo credit: La Capital
According to a Rosario newspaper, "Diario El Capital," he made his first public appearance as a 13- year-old, saying that his dream was to play for the team of Argentina. He then became selected later, at 17, to play with the Barcelona soccer team in Barcelona, Spain. As a soccer forward there, this made a mark for him to start his career being the greatest skilled player known around the world. Then his dream became a reality when he was selected to play as a forward with Argentina, being the youngest athlete in FIFA history and at the 2006 FIFA World Cup. When he first made his spotlight in 2006, he led the Argentina team victoriously to a quarter-final game but without a trophy win after a defeat by Germany. The same thing resulted when he played in 2010, 2014, and 2018 after France defeated them. From this standpoint, the team went into study mode searching for how to improve to succeed in the next world cup. Their inspiration to battle for the next win then arose after the late Argentina player "Diego Maradona" passed in 2020.
Before the 2022 World Cup, Messi did a tributary post commemorating Maradona with his image on his jersey saying "Eterno Diego" or "Eternal Diego", expressing his appreciation and pride towards the player and his team. Many Argentina fans contributed their efforts in their artwork with flags, banners, and apparel of Maradona next to Messi in Qatar. After they succeeded to win in the 2022 finals, the team mentioned many times how grateful they are to their late coach and Maradona for the opportunities and lessons they learned after achieving another World Cup title. Fans around the globe cheered upon winning their first world Cup trophy since 1986 winning fans hearts especially for the latin culture. After their victory, Messi has become the greatest player of all time in soccer, consecutively winning many trophies as Maradona and the late Colombian player "El Rey Pele."
Before his recent passing, the Colombian player mentioned his respects to Messi on social media on his victory and his team after winning another title. "Today football continues to tell its story, as always, in an enthralling way. Messi won his first world cup, as his trajectory deserved." He then closes by saying, "Congratulations Argentina! Certainly, Diego is smiling now." Also, Argentina President Alberto Fernandez adds, "Thanks to the players and the technical team. They are an example that we should not give up. That we have great people and a great future."
In conclusion, Messi, and the Argentina team plan to excel in bringing talented players to their team and inspiration to fans in their country. After his victory, he has created many partnerships with sports-affiliated franchises and brands like Gatorade, Addidas, Activision and many more. The now 35-year-old legend has contributed his efforts outside the field by helping unfortunate children and families in developed countries as a UNICEF ambassador since 2010. Including the #Football4Refugees project , this year and act of humility towards Argentinian residents of his country in 2020, where he donated to aid covid-19 patients to receive treatment without any expense. He plans to stay with the team while the Argentina team prepares for their next world cup tournament opening later in 2026.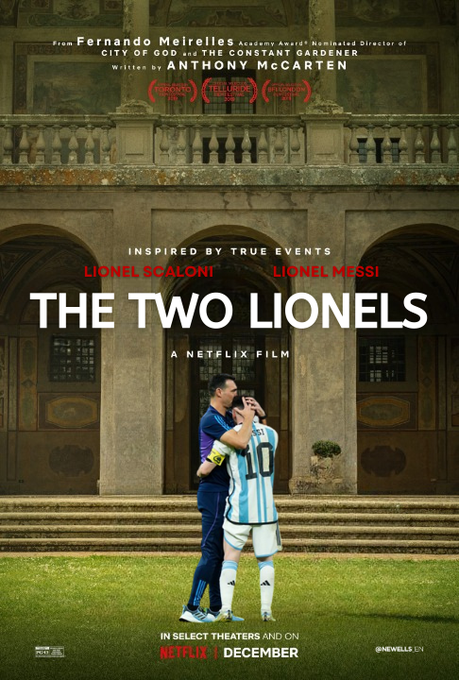 You can now see his new documentary on his legendary life story which is now available through Netflix and his content on all social platforms. 
---
Share This Post On
0 comments
---
Leave a comment

You need to login to leave a comment. Log-in
---