The festival takes place every year starting on June 21st (the summer solstice) and sees thousands of dogs and cats, stolen pets still wearing their collars killed for their meat. The "Yulin Lychee and Dog Meat Festival" was launched in 2010 by Yulin's dog meat traders as a commercial enterprise to boost their flagging sales. Previously, Yulin city had never known a dog meat festival and there was no established tradition of dog eating there; the traders tried to co-opt the idea of local tradition to legitimize the event. While the annual dog meat "festival" in Yulin in the Guangxi Zhuang Autonomous Region has come to symbolize the immense cruelty of the wider dog and cat meat trade, it is important to remember that 10 million dogs and 4 million cats suffer for the trade China every year.
Inhumanly cruel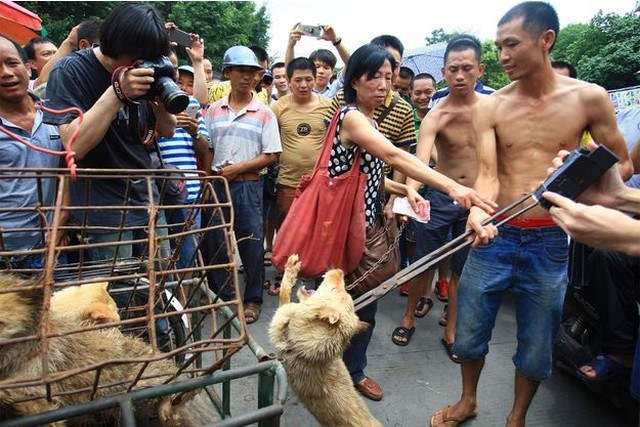 The festival is a barbaric spectacle, but the suffering starts much earlier. Thousands of dogs and cats from the street crammed tightly into wire cages and piled onto trucks to be driven for days or weeks. They come from as far as Anhui, Hubei and Henan in Central China up to 1,500 miles away. Denied food, water and comfort, those dogs stacked at the bottom of the truck become drenched in urine and feces, while those in middle suffocate to death.  Uploading and unloading of dogs and cats are violent, with cages routinely hurled up to the truck and smashed down at unloading. Bodily injuries from sharp wire, biting and rough handling cause further pain. At the slaughterhouse, they will be beaten up to death with a metal pole. Legislative proposals for a ban are regularly put forward by the Chinese policymakers, but none have been progressed thus far.
Making progress
In the face of such horror, achieving change in China can seem frustratingly slow, but progress is being made. Since it began in 2010, the Yulin festival has become more muted and reduced in size and Yulin authorities are under increasing pressure from both Chinese and international protest. In 2016, the Yulin police erected roadblock checkpoints to stop trucks loaded with dogs from entering the city. This was followed in 2017, with the Yulin authority's attempt to impose a ban on the sales of dog meat. Under the pressure from local dog traders, they eventually rescinded the total ban and reduced it to a restriction on the number of dogs allowed for sale per market stall. Officials have cracked down on public display of slaughter.
Stopping the dog thieves
Criminal activity underpins the whole dog meat industry and yet convictions are extremely rare. This needs to change if the dog thieves are to be deterred. Most of the dogs and cats are killed for China's meat industry which includes stolen pets and strays grabbed from the streets and even from people's backyard. Outraged and heartbroken Chinese pet owners are demanding more action from the police. Pet owners want to see improved law enforcement as a priority to deter dog thieves, protect vulnerable animals and increase arrest and conviction for dog trade criminals. China's regulations require all animals taken across provincial borders to have individual health certificates, with which dog traders rarely if ever comply. Activists urging the authorities to routinely stop these dog traffickers, charge them heavy fines and confiscate the animals before releasing them to reputable shelters.
Animal rescue and care
With an estimated 10 million dogs every year suffering from the dog meat trade in China. As these animals are largely illegally acquired, as well as illegally transported across provincial borders without the necessary paperwork, CAPP can ask the police to confiscate dogs and cats on these intercepted trucks if the driver doesn't produce the necessary paperwork. This can involve CAPP activists negotiating on the roadside for hours or even days, but once the animal is confiscated and the 21-day quarantine period is over, the animal can be handed to their care so that rehabilitation can commence, and eventually adoption into new, loving homes.
In April 2021, pressure from Chinese citizens led the cities of Shenzhen and Zhuhai to ban the sale and consumption of dog meat and the Chinese Minister for Agriculture Han Changfu to exclude dogs from the list of animals classed as livestock. Humane Society activists have convinced the consumption of dog meat will be banned in the future; however, the path towards a total ban won't be easy and will take time. Till then we can do our bit by reading up on the topic and gaining awareness, sharing news, as well as supporting the volunteers who are trying to save lives. But, most of all, we have to learn to make more conscientious food choices ourselves, recognizing that there's one bit of Yulin in every slaughterhouse in the world.
---
Share This Post On
0 comments
---
Leave a comment

You need to login to leave a comment. Log-in
---