On 8 March 2023, The Russian forces with the Wagner Group pushed the Ukraine army to the other side of the Bakhmutovka River. It has been reported that heavy fighting occurred before they were pushed back. According to the General Staff of the Armed Forces of Ukraine press release, The Russian Armed Forces have concentrated their main efforts on conducting an offence towards the areas of Kupyan, Lyman, Bakhmut, Avdiiv and Shakhtar. The General Staff reports unsuccessful offensive actions across the region. A slow push is being seen on part of Russian forces – UFA News.  
Heavy artillery is being used by Russia according to the General Staff report, with additional air and missile strikes carried out.
NATO Secretary General Jens Stoltenberg believes that Bakhmut could be gained by the invading forces (Russia and Wagner) in the coming week. This would leave the Ukraine Army with only a few choices if no additional support is directed to the area. 
The Tension between President of Ukraine Volodymyr Zelenskyi and General Valeri Zaluzhnyi can be seen as contradictory because Zelenskyi wants to continue defending till the last man is standing. General Zaluzhnyi believes otherwise.
In a statement, Zelenskyi said that the fall of Bakhmut would allow Moscow to have an 'open road' for the continuation of offences and to spread the war deeper into Ukraine's territory – The Guardian.
However, according to Stoltenberg, this would not symbolise a turning point in the war for Russia. It would be just highlighting the facts that Russia's capabilities should not be underestimated in terms of what they can give – European Pravda.
The supply routes to Bakhmut are seen getting tighter as Russian forces are getting closer every day. A Ukrainian Commander of the troops in Bakhmut has called the current situation in the city 'hell' -CNBC.
It is believed that once Russian forces capture Bakhmut, the advance would go further, capturing other cities in the Donetsk Region. Capturing the city would give the Russian Army and the Wagner Group the opportunity to attack Slovyansk or Kramatorsk.
During the televised meeting that was held on Tuesday, 7 March 2023, Russian Defence Minister Sergei Shoigu told other military officials that taking over Bakhmut would give Russia a significant gain and allow them to expand the 'offensive operation furthermore in the east' -The Economic Time.
Pictures from today, 8 March 2023, with the Wagner leader Prigozhin standing in front of the Soviet Tank monument, which is located 500m from the Bakhmutovka River, can be seen.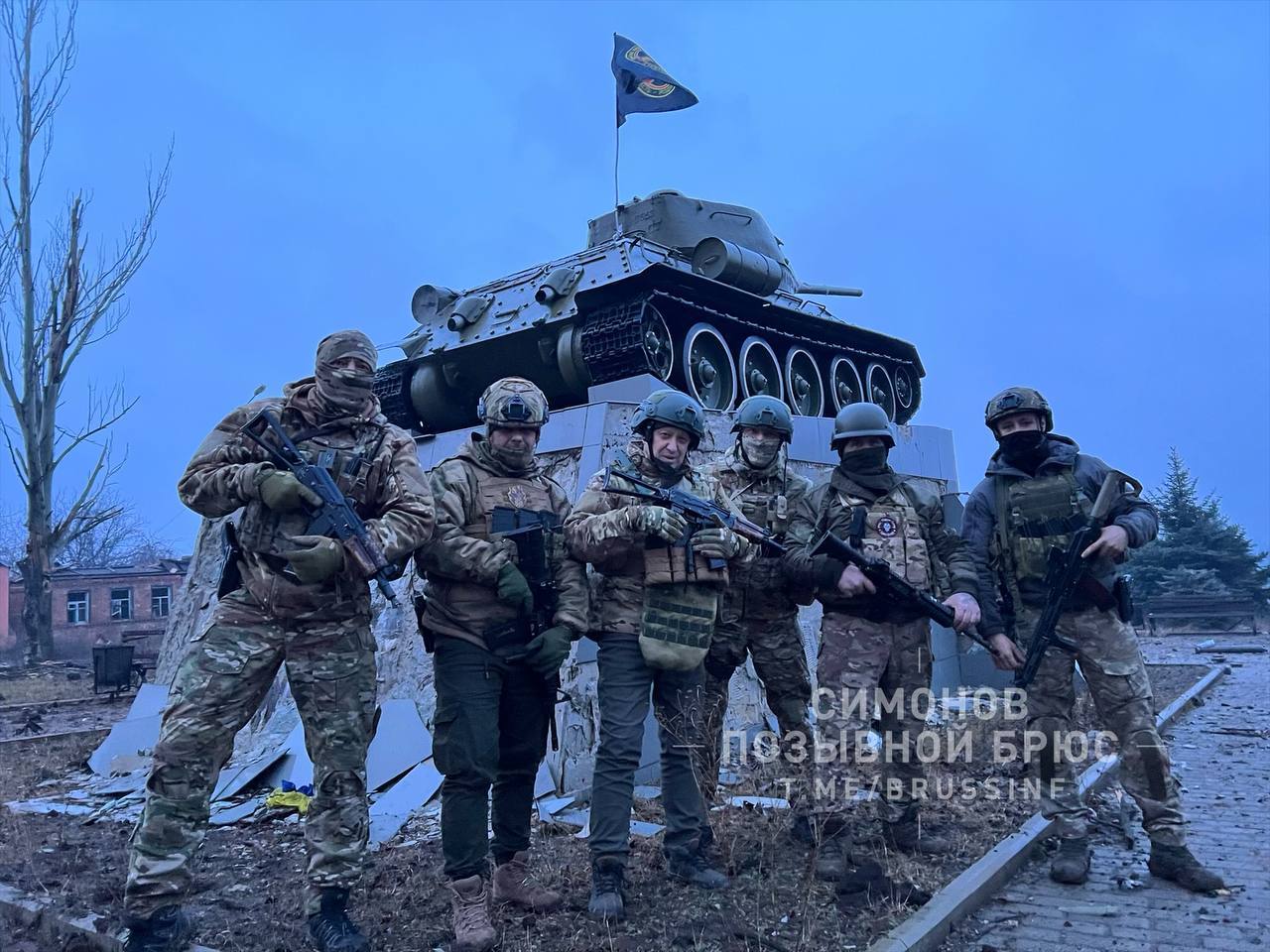 It is believed that the Wagner Army often places flags and captures victory images after the area has been properly secured and cleared from its enemy.
Prigozhin considers the battle of Bakhmut to be the hardest battle currently happening.
---
Share This Post On
0 comments
---
Leave a comment

You need to login to leave a comment. Log-in
---