In modern times, mainstream artists have popped up all over social media. One platform known as Instagram has over thousands of popular artists. However, Absolute Ama has become well known for their pop-surrealist artwork. Absolute Ama currently resides in Chico, California.
Ama tends to focus their art on beautiful women with a fantasy element intertwined into the pieces. For example, one of their pieces known as 'Eccentric Demise' is a beautiful woman with horns, wings, and gorgeous lashes; the image is shown below.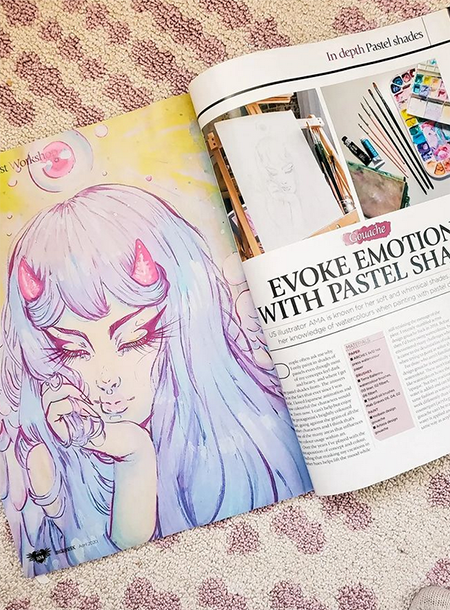 On Absolute Ama's website, the print has the following caption: "Beware [o]f her eyes, she may just eat you alive."
Ama has become known all around the world as their art has been featured in various shows. They have been in gallery IYN, Girl in Wonderland Group Show, Kita-ku, Osaka, Japan, as well as the Great Northern Coffee & Gallery, Solo Exhibition, Chico California, USA, and Nucleus Portland, Power in Numbers Group Show, Portland, Oregon, USA to name a few.
Absolute Ama has also been published in quite a few magazines and newspapers. For example, they were published in a newspaper called the 'Enterprise Record' in Oct 2017. They were also published in the popular magazine known as 'Imagine FX' Issue 185 in April 2020.
On top of being published in both newspapers and magazines, and being featured in galleries, Ama has created their own art zines as well. One of those zines is titled 'Art of Ama: Capturing Expressive Faces;' the cover of the zine is shown below.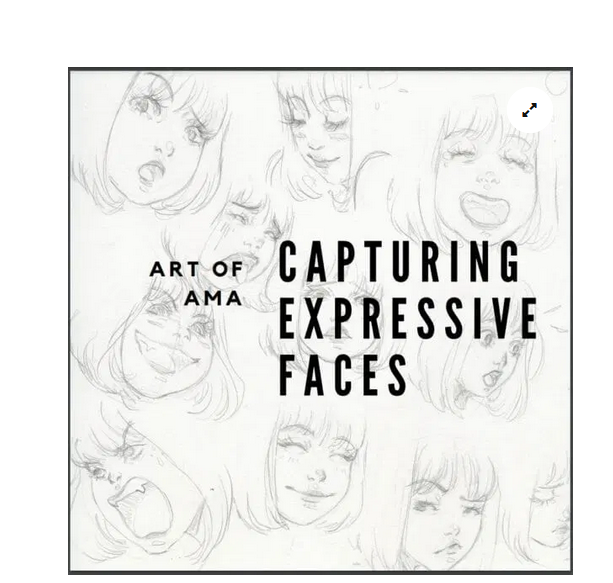 Ama has also created another zine titled 'SUKEBAN GIRLGANG Zine.' This zine is a beautiful collection of characters created by Ama for their AstroBabe universe as shown below.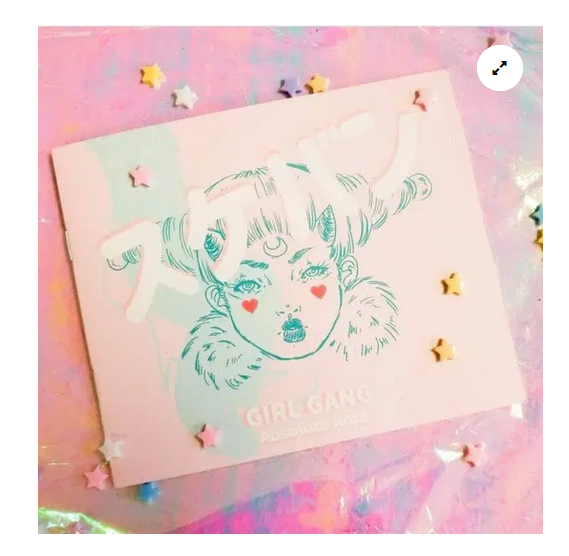 Once again, this zine is filled with gorgeous paintings and beautiful colours that match Absolute Ama's theme which appears to consist of pastel colours and gorgeous women. They also have another artbook known as 'Euphoria' which was published in 2018, the beautiful cover image is shown below.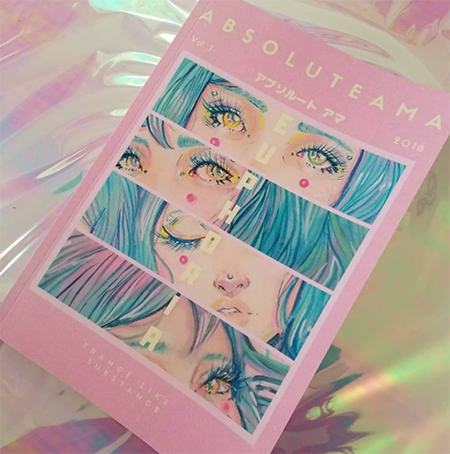 Most people that follow Absolute Ama know that they mainly use gouache (a painting material similar to watercolour and acrylic at the same time), but some may not know that before they began using gouache; they had been creating art with watercolour's.
One of their earlier pieces of artwork is of a beautiful woman with long, gorgeous hair in one of their most common colours; pink! The linework on the piece is gorgeous and showcases the time and effort that was required to create such a beautiful piece. Below is the painting that has been mentioned.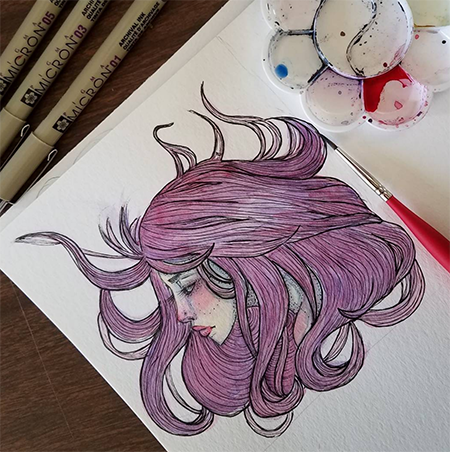 When I confronted Absolute Ama about writing an article on them, they had responded with excitement.
Absolute Ama: Omg!! Sounds cool! Totally!
I was so happy that they were excited about it and just had to ask my next question.
Victoria: Out of all your pieces, which would you say is the most popular? And do you have something you would like to say about that piece?
Absolute Ama: Toxic Mindset and Conscious Beginnings are my top two most purchased which is wild cuz both of them are pieces I did randomly when I was first experimenting with gouache and was just kinda wingin' it lol.
I was excited to hear their response and decided to share the two pieces that Ama had mentioned in their comment.
Their piece known as 'Toxic Mindset' is a beautiful image of a woman with horns, mushrooms growing on their head, a third eye, and a cup of tea with the steam enveloping the background. If a person looks closely at the image, they can also see that the teacup itself has an eye on it as well. Some people may not know, but mushrooms are an inspiration for Absolute Ama in their pieces. Below is the image of 'Toxic Mindset' as well as a beautiful painting of some mushrooms!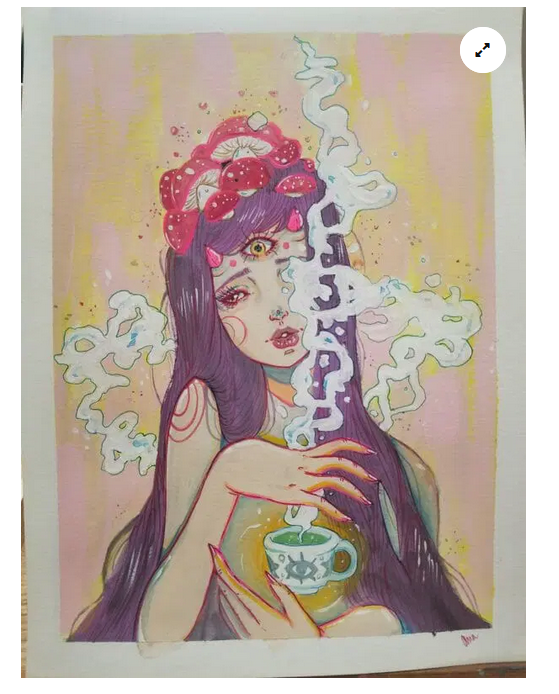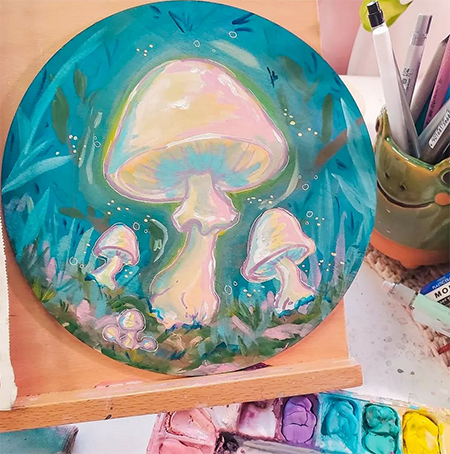 Absolute Ama's other piece, known as 'Conscious Beginnings' is another image of a woman with horns. This time the woman has lush pink hair and a gaze that appears to be seductive. Another feature in this painting is a mask that is partially in front of the character's face. The colour of the mask and the background work really well together and suit the character's hair colour. The painting known as "Conscious Beginnings' is shown below.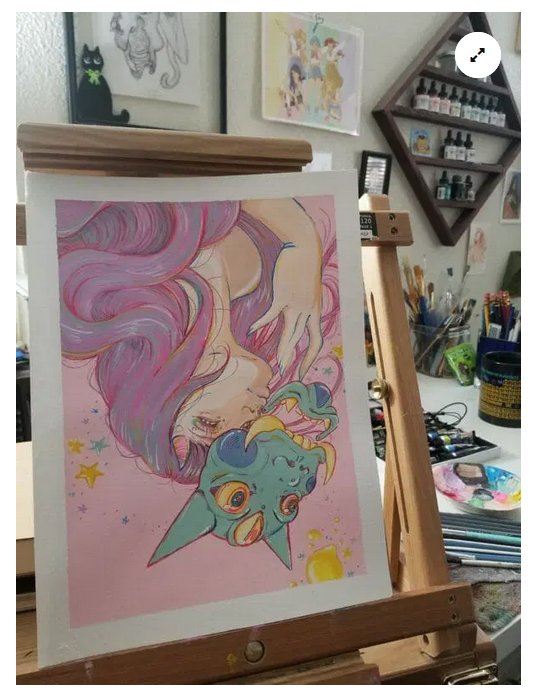 Not only does Absolute Ama create paintings of gorgeous women, but she has cosplayed (cosplaying means dressing up as a character from a show or a fictional character, or a character of your own creation) as an elf and she looked amazing in the picture. The day she wore this outfit was when it was their birthday, and they had a tea birthday stream on Twitch. Their outfit matched the theme completely and suited the overall theme of her artwork.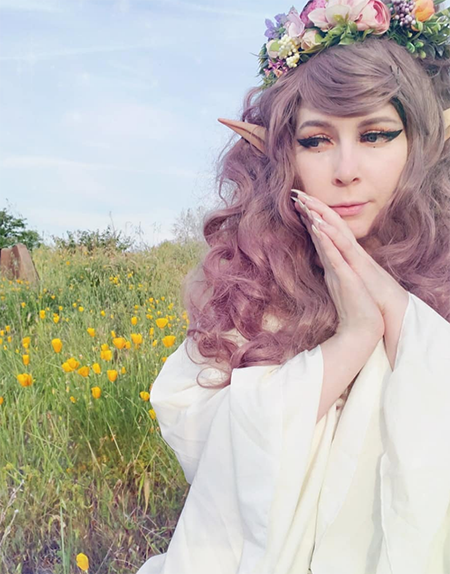 Recently, Absolute Ama had created a set of coasters for the NucleusPortland coaster art show. These coasters were of beautiful women once again and created with vibrant colours. One of the coasters that was created is shown below. It has a beautiful blue background and a cute woman just relaxing.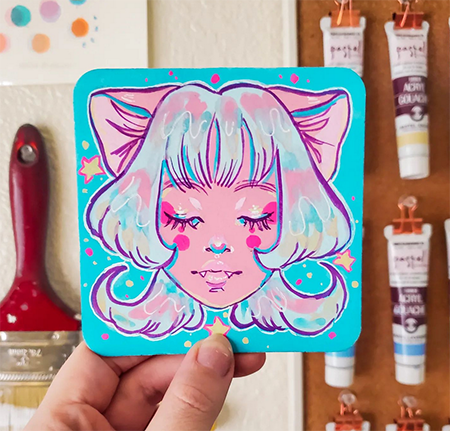 For people who are just hearing about Absolute Ama for the first time today, they should know that Ama is a kind individual who loves their community and loves creating art with them. They currently have 89.2K followers on Instagram and it shows just how much people adore her and their art!
Not only does Ama stream on Twitch and post on Instagram, but they also have a Patreon where they gain support from their followers and community, and a person can join Ama's community Discord by pledging to a certain tier every month. Currently, Ama has 119 Patrons who have pledged to support her. The different tiers on their Patreon consist of an art tier, a Discord tier, a mini print club tier, a print and sticker tier, an exclusive original mini postcard tier, and an exclusive original painting tier. They have so many options and they are an amazing creator and person.
If you're ever wondering where to find some beautiful art, head on over to Absolute Ama's page and you will witness a large amount of beautiful paintings.
---
Share This Post On
0 comments
---
Leave a comment

You need to login to leave a comment. Log-in
---