According to the definition, corporal punishment is "any punishment in which physical force is used and intended to cause some degree of pain or discomfort." The type of punishment is reported as the most common form of violence against children and, like all other forms of violence, an act of violating human rights. Ever since Sweden's pioneering abolition of corporal punishment on children in 1979, there have been nearly 70 countries following the example, prohibiting the practice of physical punishment both at school and at home. And, just as a reminder, these decisions are by no means sentimental. The global governments' actions are strongly backed up by an increasing number of scientific proofs provided by trustworthy organizations like the World Health Organisation refuting the effectiveness of corporal punishment on our children's development.
It seems indisputable that corporal punishment is no less than domestic violence against children. Such a methodically and morally wrong teaching strategy should be rejected by any educated, reasonable, and loving parent. Culturally speaking, however, may the indisputable surprisingly become disputable? The answer might be yes.
Cultural values determine cultural norms. The use of corporal punishment isn't an exception. The popularity of this proverb, "Spare the rod, spoil the child," probably stems from the fact that many people in the Western hemisphere believe it is extracted from The Bible. Not until the Internet emerged, giving people the power to do more extensive research and distribute information widely, did they start to realize the "spoil the child" part never exists in the Holy Verse and "the rod" is just a symbol for "discipline." With the proverb proven a pseudo-value, corporal punishment gradually lost its position in society. Western people went from moving progressively away from the practice to fiercely criticizing the sentence. It's comprehensible, therefore, how Western countries can outlaw corporal punishment much earlier than any other region.
Meanwhile, in Asian countries where Confucian heavily influences society, people might need more time for a change of cultural values. The Chinese equivalent version of the Western proverb, 打是亲骂是爱, literally means "Scolding or spanking your child is a kind of expression for love." So, for all this time, all people, including both parents and their children, have been following and practising a cultural belief in which corporal punishment only originates from parents' good intentions and care for their kids.
Aside from the sentimental impact of the proverb, other reasons make it harder for Confucius culture to have this value changed soon. Firstly, Confucianist beliefs hand the parents supreme power over their children, making it tougher to change the norm without the parents' approval. Secondly, a highly collectivist culture prioritises the value of family and community over that of individuals. If a cultural norm is believed to maintain the hierarchal order of the family, individuals' voices will often be overlooked, and society does not intervene.
It's no surprise, therefore, when we return to the list of countries that have banned corporal punishment only to find just two Confucian-influenced countries, Japan and South Korea. Backed by society and handed the power, traditional Asian parents barely see anything wrong with corporal punishment as long as they find it compelling. This does not mean, however, that Asian parents do not know the limit of corporal punishment and its potential to become an example of domestic violence.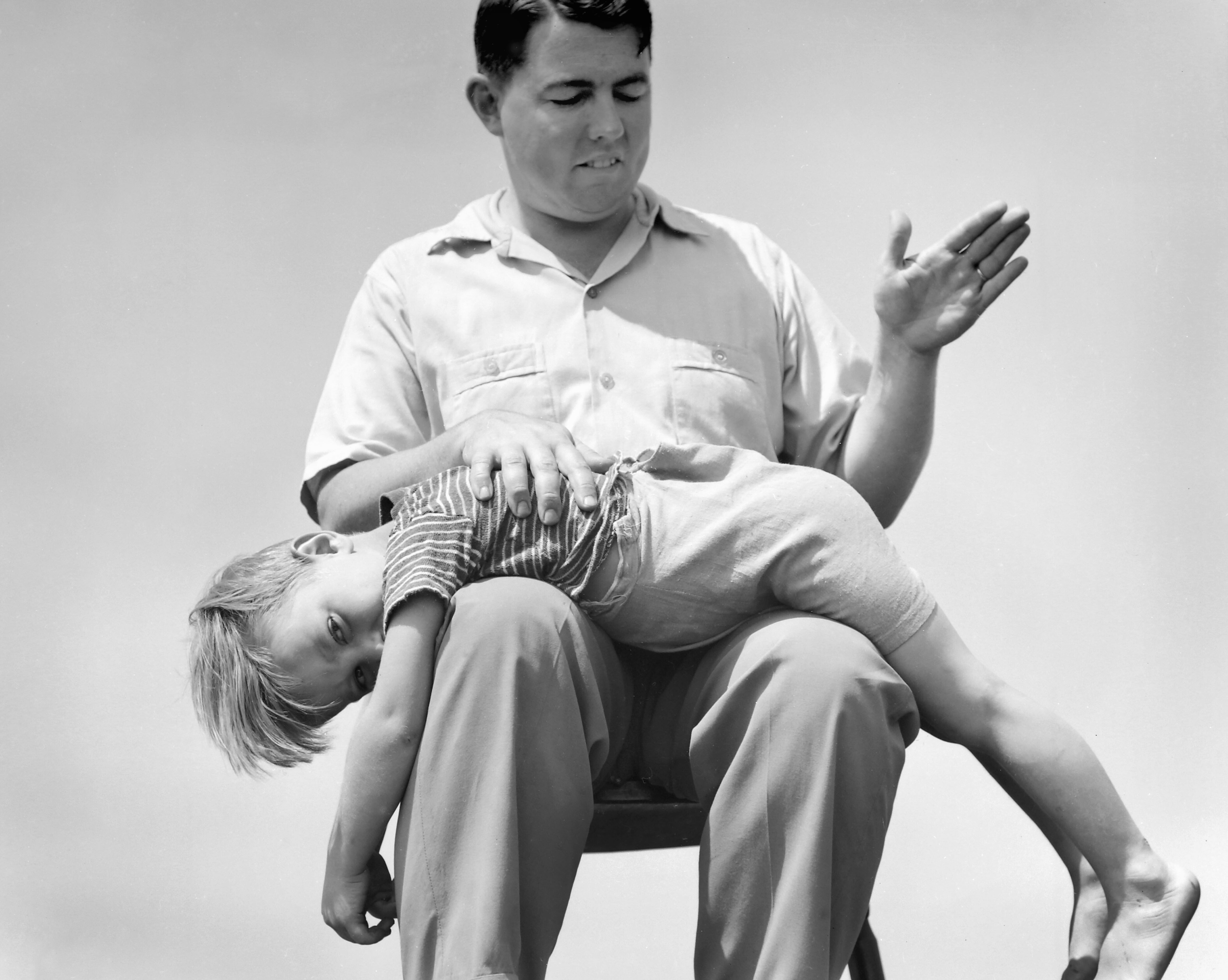 Corporal punishment might be different from domestic violence if legally controlled and appropriately done. Photo: Ghetty Images.
Growing up as a typical Asian child, this writer was no stranger to corporal punishment, most of which came from her dad. She remembered that her dad would be a very understanding and loving father until she accidentally did something wrong. While such a punishment was never pleasant, never has any corporal penalty severely affected her physically or mentally. The harsh punishment also had a time limit; the number of corporal disciplines decreased as she grew up and vanished into thin air when she reached 11, but they already taught her lifelong lessons when verbal scolds and grounding weren't enough. Most importantly, her parents always ensured that she understood what she did wrong to receive such a punishment so that a second time would never happen. Looking back, she has to admit that without corporal discipline, she would have grown up to be annoyingly stubborn and extremely rude.
Such a demonstration of corporal punishment is far different from cases where children are beaten and tortured their whole life for inappropriate beliefs or reasons, to the point that they become physically scarred, mentally exhausted, and full of hatred and hostility for their parents. I believe any educated, reasonable, and loving Asian parent knows the line well, and it is simply unfair if these parents get misunderstood and criticizedfor the type of violence that they don't commit.
Just a reminder: This is not to condone the free practice of corporal punishment. This form of punishment needs a law to regulate it strictly so that both parents and children are benefited. What the writer calls for, in fact, is a more compassionate attitude towards parents in cultures where corporal punishment is still a legal thing.
Refuting their effort in raising their children and their parental love and care would barely help the no-violence agenda happen faster. It would probably be better to look for the grey area where corporal punishment becomes inappropriate and, therefore, is indeed an act of domestic violence. When that faint line could be drawn crystal clear, both sides might get a chance to understand each other's stance on the issue, which leads to a better opportunity for cooperation for children's development.
Of course, compared to a straight-up ban on corporal punishment, this takes much more time and effort fromeveryone, from parents, children, and governments to psychologists and social scientists. Nevertheless, challenging work has its worth; maybe one day, we can see all parents loving their children right without the necessity of a complete ban on any corporal punishment.
---
Share This Post On
0 comments
---
Leave a comment

You need to login to leave a comment. Log-in
---