In the first decade of the millennium, more than 86 cases were reported under the name of witch-hunting. 
On June 22, 2011, four bodies were found dead on the Monabarie Tea Plantation in Assam, the largest tea plantation in Asia. The bodies identified were of a couple, their 15-year-old daughter, and their 14-year-old neighbor. All of them bore marks from restraining and their faces burned by acid. The wife and daughter, who were suspected as prime targets, were found to have been raped. Further investigation pointed out that the killings had been instigated by the belief that the deceased were participants in witchcraft. 
Another report on October 9, 2011, saw a seven-year-old found mutilated, the body was shredded, and incense sticks pinned to its forehead. The incident happened inside a BSF camp in Paharinagar, West Garo Hills district, Meghalaya. The police FIR read two BSF jawans and a tantric from Mankachar, a town in the South Salmara-Mankachar district of Assam, to be responsible. 
And this is how dark the story of witchcraft and magic gets in the eastern sisters of India. 
For further read on these cases click here.
Five years later, in 2016, art communities globally have embraced the emerging wave of 'female pagan artists'. Some feminist groups have also recorded this victory over the history of genocide.
Today, people remember Mayong, the witchcraft capital of India, as a place that reeks of terror. However, historians claim that, unlike all other practices that have died out with the advent of modern times, what has put Mayong to sleep has resulted in the civilization's destruction. 
As History Remembers
The story of Mayong predates Indian history to the time of Mahabharatha. Ghatotkacha, son of Bheema (the second of the Pandavas), is claimed to have gained extraordinary powers from the sages in these deep jungles, making him a difficult opponent to defeat if not for Karna's powerful weapon. Concerning these stories, one cannot dismiss the possibility of encountering such sages in these areas of the deep jungle today.
Written in various languages and most of its history lost with time, Mayong is left with a handful of some very popular stories and perhaps a handful of elderly who have witnessed them. In 1256, Ikhtiyaruddin Yuzbuk Tughril Khan, the then Sultan of Bengal invaded Assam or the then Pragjyotishpura. He died in these hills, as have so many others before him. Similarly, in 1332, Muhammad Shah is depicted in Mirza Muhammad Kazim's Alamgir Nama from the Aurangzeb period as he and his 100,000 men got wiped off without a trace when they tried another invasion on the state.
Mayong was a land not to be trifled with. People were afraid to set foot on their land for fear of being turned into sheep. Perhaps more protected than the land of robbers and the land of martial artists, the area stood out in history, untouched by foreign settlers.
Morigaon or Mayong 
Hidden from the eyes that look at India, behind its hilly protective layer and the banks of Brahmaputra is the district of Mayong. Forty kilometers from the today city of Guwahati, lying very close to the world's largest population of one-horned rhinoceros, in the Pobitora Wildlife Sanctuary, is the mystic lands of Mayong.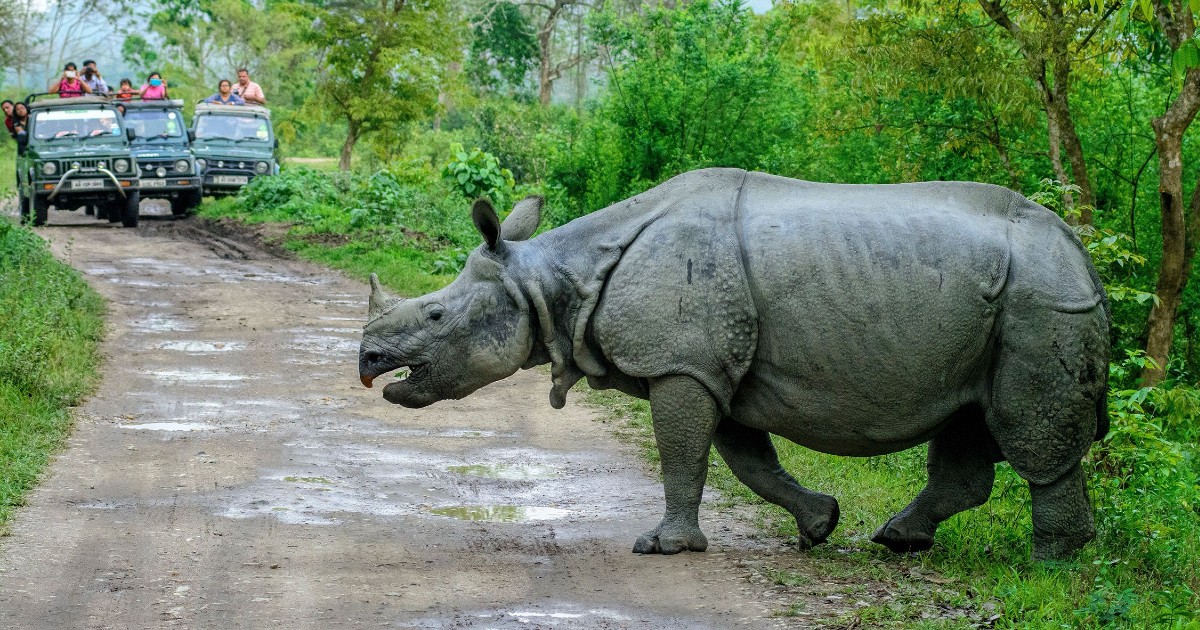 Some locals believe that the ancient area inhabited by the Moirang clan of Manipur came to be called Morigaon. Some also say that it was derived from the word Maya which means 'magic or illusion' in Sanskrit, or from the Dimasa word for elephant 'Miyong'.
Mayong was the place for all kinds of magical needs and practices. From spiritual meditations to the extremes of human sacrifices, all practices were a part of their tradition. Palm readers, fortune tellers, Ayurvedic doctors, wizards who were capable of pinpointing stolen goods, others who could find a culprit's location, and even cure chronic diseases, were a part of this community. With dozens of idols of Hindu deities dating back to the 11th and 8th centuries AD, these lands have strong religious roots that can be seen almost everywhere. 
In contrast to this image is the practice of forbidden rituals and black magic. Various sacrificial practices, which include human sacrifice, or Narabali, were prominent in these regions. Many archaeological proofs, such as swords probably used to kill cattle, and humans were excavated from these regions.
Manuscripts that provide the details of Mayong's traditional practices of magic can be found in most households. Some heirs of such writings have burned or thrown them into the sea, fearful of mob lynching over such activities. Another important reason why they have let go of these treasures is that it not only requires great effort to preserve them but also the slightest presence of such mantras creates a massive responsibility for their house. 
Some of them from the lineage of infamous wizards have also claimed that the lifestyle, precautions, and rituals to be followed are extremely stringent and might cause harm if not followed correctly. They cannot perform wizard duties because most rituals necessitate one or more extreme measures, such as animal sacrifices. Many of the scripts are written in Arabic, and ancient languages like Sanchi Paat, and Kaitheli script. These are collected at the Mayong Rural Museum and Research Centre. Some people also pretend to have burned their scripts, when they have not, to avoid public criticism.
Today's Magic
Mayong today is an agrarian society. Schools and colleges are established to provide provisions for a better life for the upcoming generations. Due to the sensitivity of black magic-related topics, the land has regained its popularity. Tourists and people have come from across the land in search of medicine and for other purposes, to find their salvation in these lands. There may be a silent practice of magic within today's generation, but that does not contribute to the district's path back to its glory. 
Outsiders are not allowed access to these arts, to prevent these from falling into the wrong hands. The tradition is struggling to survive. The younger generations are unwilling to step into their ancestral traditions because of the challenge that art raises and its limitations and repercussions.
Even as tourism has grown in these areas, the fear that surrounds the land of enchantment has kept the region safe from exploitation.
Photo Courtesy: Sanat K Dutta
---
Share This Post On
0 comments
---
Leave a comment

You need to login to leave a comment. Log-in
---